Elliot Coad Of Ecologi: 5 Things We Must Do To Inspire The Next Generation About Sustainability And The Environment
An Interview With Martita Mestey
As a parent, it's easy to advise your children on the best way to live their lives. However, it must be true that you also live your life the same way. The saying 'actions speak louder than words' is so important — your actions must align with your advice. Children are much more likely to adopt the habits of their parents if they can see it happening in front of them.
As part of my series about what we must do to inspire the next generation about sustainability and the environment, I had the pleasure of interviewing Elliot Coad.
Elliot Coad is the CEO and co-founder of Ecologi, the UK's leading climate action platform which is helping businesses and individuals to play their part in tackling climate change. After many years in web development and holding senior roles at media and tech companies, Elliot, a lifelong environmentalist, came up with the idea for Ecologi on his usual commute. Since its inception in 2019, Ecologi has planted over 53 million trees and avoided over 2.3 million tonnes of carbon dioxide equivalent (CO2e) from the atmosphere. Elliot can often be found discussing his thoughts on climate news and regulations and working to educate and inspire others in the fight against climate change.
Thank you so much for doing this with us! Our readers would love to "get to know you" a bit more. Can you tell us a bit about how you grew up?
Many thanks for having me! I grew up in the UK initially with my mum in a caravan just outside the university she was attending. I was smuggled into the back of some of the lecture halls. I just don't know how she managed to graduate. One of the most memorable first conversations I had with her was about the environment. I've always had a niggling uneasiness of what's in store for us. But for the most part I was lazy and just loved doing very little — blissful times!
My love for computer games led to studying programming, and eventually landed me jobs in London creating all sorts of internet applications. But I was burning the candle at both ends, and then my daughter turned up and forced me to take a break and get into something different.
Was there an "aha moment" or a specific trigger that made you decide you wanted to become a scientist or environmental leader? Can you share that story with us?
There really was an aha moment. In 2019, I bought a coffee on the way to work — something I had done thousands of times before. This particular morning, however, I had a realisation: what if I used the money I spent on my morning coffee and used it to fund some form of climate action instead? By applying this concept on a wider scale, I discovered the pocket change that millions of us have (whether as an individual or a business) could be used instead collectively to fight climate change and effect real change. And so, that is where the idea for Ecologi was born: a subscription service for the planet.
Is there a lesson you can take out of your own story that can exemplify what can inspire a young person to become an environmental leader?
Honestly, I think the younger generation gets it! If anything, I'm inspired by them. It's so encouraging to see young people being proactive, mobilizing and working together to fight for their future.
Can you tell our readers about the initiatives that you or your company are taking to address climate change or sustainability? Can you give an example for each?
Ecologi is a platform that provides the tools and guidance to simplify climate action and make it easier for people who want to contribute positively to the planet. Our platform helps people to fund global climate solutions through supporting reforestation projects around the world, as well as a broad selection of carbon avoidance projects — ones that are certified at the very highest level by Gold Standard or the Verified Carbon Standard. We're also building a free carbon accounting tool, Ecologi Zero, that measures a business' emissions, providing the critical first step along the net-zero journey.
Here at Ecologi, we believe that collective action is the key to fighting the climate crisis, and that with a little input from a lot of people, we can create real, positive impact on the planet. Our community of over 38,000 members has already made incredible progress, funding the planting of over 53 million trees and avoiding more than 2.3 million tonnes of CO2e through verified carbon avoidance projects. If we can achieve those numbers with just over 38,000 members, just think how much we could achieve if millions of people and businesses joined our collective movement!
Can you share 3 lifestyle tweaks that the general public can do to be more sustainable or help address the climate change challenge?
Eat less meat
Livestock farming is thought to contribute between 17–28% of all greenhouse gas pollution. If everyone cut down on their meat and dairy intake, this would make a huge impact on our environment. Even occasionally opting for plant-based milk can also make a huge difference.
2. Fly less
Flying contributes massively to the world's emissions, particularly long-haul flights. It's best to avoid these where possible, and travel to places locally. If not your native country, take a train to a country close by to enjoy your holiday, and help fight climate change at the same time.
3. Take to the streets
The enormity of the situation means we need to dial it up and show we like this planet! Around the world before Covid, there were massive marches through our cities and we saw with Ecologi that businesses and individuals flock to our platform and signed up with all the media attention. Activism is a hugely potent climate solution that we should not underestimate.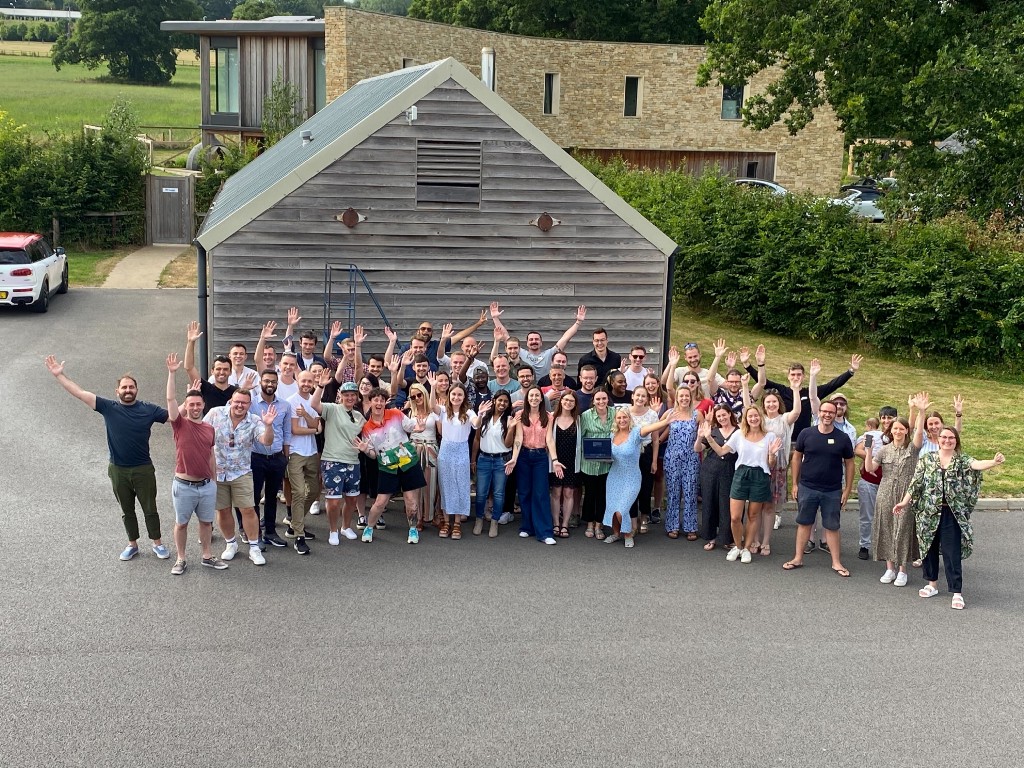 Ok, thank you for all that. Here is the main question of our interview: The youth-led climate strikes of September 2019 showed an impressive degree of activism and initiative by young people on behalf of climate change. This was great, and there is still plenty that needs to be done. In your opinion, what are 5 things parents should do to inspire the next generation to become engaged in sustainability and the environmental movement? Please give a story or an example for each.
Be a role model
As a parent, it's easy to advise your children on the best way to live their lives. However, it must be true that you also live your life the same way. The saying 'actions speak louder than words' is so important — your actions must align with your advice. Children are much more likely to adopt the habits of their parents if they can see it happening in front of them.
Create awareness from a young age
Bring your kids up around nature. Let them spend time outside, with animals, and create awareness of the natural world at a young age. Learn some of the actual names of the trees as a start by downloading an app, it can bring a new fascination to your trips outside! If children have this appreciation and awareness, it is likely they will want to continue to protect it as they get older.
Learn together, and educate each other
Although some may disagree, parents do not know everything! Share any new information you discover with your children — any interesting climate talks, documentaries or books — you can both progress on your sustainability journey together!
Show that hope is our most powerful tool
The world can, unfortunately, be a bit doom and gloom at times, but it's important to remain defiantly hopeful about the Earth's future. The solutions are out there, we can do it. Revolutions have happened before and with some graft, it will happen for the climate cause too.
TALK!
This is a pretty major one — as a parent, I'm apprehensive about talking about climate but it's so important it happens. Climate is a hard topic but fostering an appreciation for the beauty of the natural world is a wholesome topic and is likely to support a great characteristic in your child.
How would you articulate how a business can become more profitable by being more sustainable and more environmentally conscious? Can you share a story or example?
In this age of heightened accountability and consumer scrutiny, growth is in fact intrinsically linked to a company's environmental stance. Recent research showed that 44% of investors won't even invest in companies with poor sustainability performances. At the most fundamental level, a sustainable and transparent business strategy is crucial to strengthening your brand, gaining investment, and attracting top talent to your business.
Climate action also offers companies excellent storytelling potential to be used in marketing initiatives, which can help to create a brand that is meaningful and relates to target consumers. However, it is not enough to speak of sustainability measures, they need to be embedded into business practices and actions need to be delivered. For example, companies can take a stand by tracking emissions, making a climate action plan, setting emissions reduction targets, measuring progress, and supporting policies that advance climate change mitigation.
None of us are able to achieve success without some help along the way. Is there a particular person who you are grateful towards who helped get you to where you are? Can you share a story about that?
Not doing this alone is vital. My rock was my wife who was also my cofounder. We'd burned out from our previous jobs, and then compounded with our daughter turning up! I'm not sure how we thought it was a good idea at the time, but we thought starting Ecologi would be a good idea to recover! On reflection, and after a brutally hard start, that was a questionable decision. But when you go through something like that with someone else it's a bond for life, a new crazy chapter added to the book. When it came down to it, we both needed just so much help, and we amassed a veritable army of volunteers who just willed this thing to work. And for that we're so appreciative and will always try and find a way to pay it back to others needing that leg up.
You are a person of great influence and doing some great things for the world! If you could inspire a movement that would bring the greatest amount of good to the greatest amount of people, what would that be? You never know what your idea can trigger. 🙂
This is a question that's just so close to my heart! I'm unapologetically confident that there is something special around the corner that will trigger the most incredible collective action.
We have a small community of 38k members, but they've been responsible for so much incredible impact. But the opportunity is almost incomprehensibly larger. A survey in 2020 found that almost 70% of the world's population believes climate is a very serious problem. That's more than enough passion to move the mountains required. Everything we buy, every opportunity to vote we have, and any time we can make some noise for the climate, we should take it. And then the scales will, sure enough, start to tip.
Do you have a favorite life lesson quote? Can you tell us how that was relevant to you in your own life?
Remember that your own internal compass is the most powerful tool you have; it will help you tread your own path. So don't worry too much about the status quo and make the moves that you believe in.
What is the best way for people to follow you on social media?
You can find me on LinkedIn or Twitter — feel free to reach out to me if you're interested in joining the Ecologi movement!
This was so inspiring. Thank you so much for joining us!
---
Elliot Coad Of Ecologi: 5 Things We Must Do To Inspire The Next Generation About Sustainability And… was originally published in Authority Magazine on Medium, where people are continuing the conversation by highlighting and responding to this story.