Linnea Larsdotter Mikkelä of the Nordic International Film Festival: 5 Things I Wish Someone Told Me When I First Became A Filmmaker
Interview with Guernslye Honorés
Change your path when it feels right. There is seldom an end result to wait for, don't be afraid to try new things, or close a chapter in your book. The next one might be even better!
As a part of our series called "5 Things I Wish Someone Told Me When I First Became A Filmmaker", I had the distinct pleasure of interviewing Linnea Larsdotter Mikkelä.
Linnea Larsdotter Mikkelä is an award-winning actor and producer, based in New York City.
Born in Sweden, Linnea entered into a career on stage at an early age with roles in musicals such as Pamela, Godspell and The Sound of Music. After theatre high school, Linnea was headhunted for a performance contract in Spain where she spent the following 2 seasons.
After her contracts in Spain, she was offered a performance contract in Thailand, before moving to the US in 2009. She attended a 2 year program at New York Film Academy. Her work in front of the camera quickly expanded to producing and screen writing, which in turn inspired her and her co-founder to found the non-profit organization Nordic International Film Festival, listed as a top 10 festival in New York City, now a Top 10 festival. Her 2022 edition was featured in Vogue Scandinavia.
During her very limited free time, Linnea is a published poet with a growing number of commissioned work under her belt.
Thank you so much for joining us in this interview series! Our readers would love to get to know you a bit better. Can you tell us a bit of the 'backstory' of how you grew up?
I grew up in a small village in southern Sweden, the most southern tip of the country. My family shared a big interest in the classic arts, and I started studying violin and ballet together with my two older sisters. I think growing up in the countryside really defined who I am, with the ocean right there, always present.
Can you share a story with us about what brought you to this specific career path?
My path has been as straight as it was curved. I ended up on stage at an early age, which led to a career in musical theater. This brought me to New York, to continue my education and the work expanded to also include on camera work. From in front of the camera to behind the camera was an easy transition, and through that I discovered the fascinating world of Film Festivals.
Can you share the funniest or most interesting story that occurred to you in the course of your filmmaking career?
Wow, this is a tough one. A lot of crazy things happen as you work in the film industry. When I was in Thailand to film an indie feature, the military coup happened day one, if I remember correctly. That certainly had us pivot quite a bit.
Who are some of the most interesting people you have interacted with? What was that like? Do you have any stories?
Nearly everyone is interesting! We all have stories and scars and facets that are fascinating as long as we listen to each other. There's a good saying — "Don't be interesting, be interested" and I think that's spot on.
None of us are able to achieve success without some help along the way. Is there a particular person who you are grateful towards who helped get you to where you are? Can you share a story about that?
I remember the first person who called me an artist. My Mesiner coach at the New York Film Academy, Isaac Byrne was the first one to truly embrace all of the aspects of me as a performer. This was such a confidence boost, and a recognition that I was enough just the way I am, so I owe him a lot. And not just enough, all sides of me could be celebrated, what an incredible feeling! We are still close to this day. He shaped me as an artist just by giving me guidance and permission.
Can you please give us your favorite "Life Lesson Quote"? Can you share how that was relevant to you in your life?
I have to mention two, both express something similar to me. Dag Hammarskjöld said
"For all that has been,
Thank you.
For all that is to come,
Yes!"
And I think that's pretty spectacular.
There's also a poem by Swedish poet Stig Johansson, which translates to something like
"All these days that came and went, I didn't realize that they were life".
Both my grandmother and my mom often recited that line, and I tattooed it on my ankle to stay connected to the perishable nature of life.
I am very interested in diversity in the entertainment industry. Can you share three reasons with our readers about why you think it's important to have diversity represented in film and television? How can that potentially affect our culture?
Representation is everything! To recognize yourself in the stories presented to the world can change the outcome of so many things. Through travel, art and culture we truly get an opportunity to widen our views, and I can think of nothing more important, especially with the polarization we can experience today.
What are some of the most interesting or exciting projects you are working on now?
I'm really spreading my wings as a screenwriter at the moment, and some of my stories are making their rounds in the indie world, which feels very intriguing. For NIFF, we've already started to plan our big 10 year anniversary for next year, which makes me very nervous and excited!
Which aspect of your work makes you most proud? Can you explain or give a story?
Through the film festival I can help make fellow filmmakers' dreams come true. That's a privilege. And it's worth the hard work. I love to hear or read about my alumni and their continued success, and sometimes I can get quite smug when I see new projects that come out of a collaboration that I had a hand in facilitating.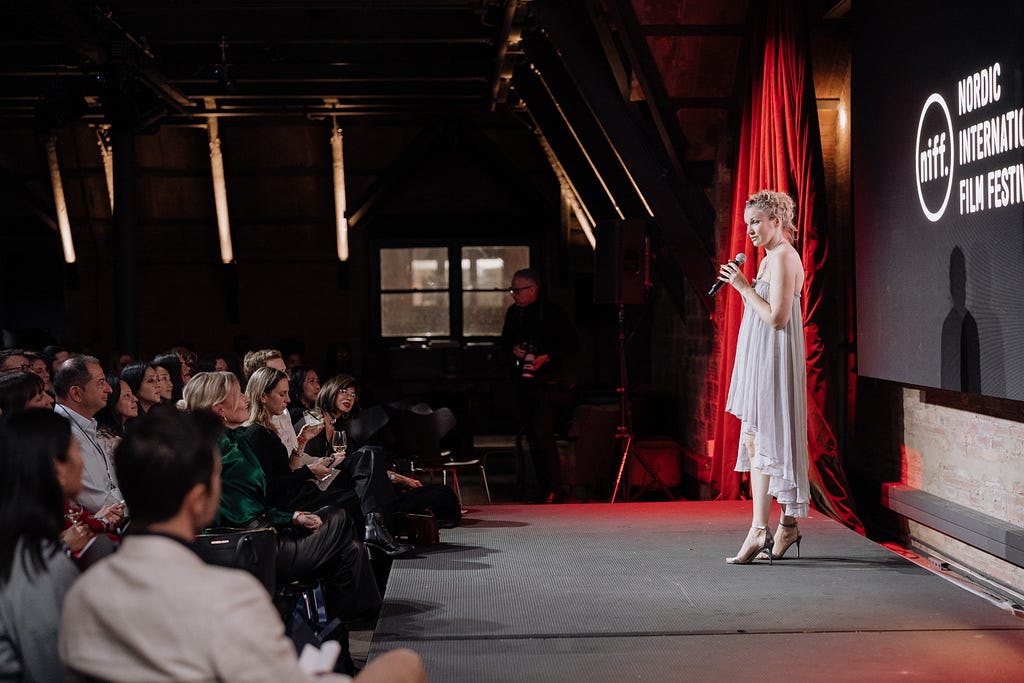 What are your "5 things I wish someone told me when I first started" and why.
1 — Be your full, authentic self. The world wants it. The more we try to fit in, the more we rob ourselves of expression and the world of a unique voice.
2 — Ask for help. If a friend knows someone that you think you can learn from, ask for an introduction. Ask for favors, and don't be a gatekeeper for when people ask them of you. Say yes to each other.
3 — Stay creative, especially if you have one form of expression that has nothing to do with your career. And when you lean into that path — perfection is boring.
4 — Change your path when it feels right. There is seldom an end result to wait for, don't be afraid to try new things, or close a chapter in your book. The next one might be even better!
5 — The world doesn't owe you anything. And, there's a lot to be grateful for.
When you create a film, which stakeholders have the greatest impact on the artistic and cinematic choices you make? Is it the viewers, the critics, the financiers, or your own personal artistic vision? Can you share a story with us or give an example about what you mean?
It has to be the creator, and the collaborating artists. If we create based on a calculated outcome I think we might forgo honest expression. Create authentically with the goal to truly connect — that's when magic happens. There's something to learn from each script, co-star, character.
You are a person of great influence. If you could start a movement that would bring the most amount of good to the most amount of people, what would that be? You never know what your idea can trigger. 🙂
Ah, to not make it easy for yourself. Set elaborate and specific goals, and help your friends achieve theirs. Go out of your way to help the people that mean a lot to you, and celebrate their victory as your own. If we all truly looked out for each other we would all benefit greatly. Just don't lose yourself along the way. I've certainly made that mistake.
We are very blessed that some of the biggest names in Business, VC funding, Sports, and Entertainment read this column. Is there a person in the world, or in the US whom you would love to have a private breakfast or lunch with, and why? He or she might see this. 🙂
I would love to meet Petter Stordalen. He inspires me by being both an inspirational businessman and a philanthropist. Within the artist world, I can only dream about one day working with Frances McDormand.
How can our readers further follow you online?
NIFF is on instagram under niffofficial, and our website is nordicfilmfest.org. My poetry can be found on instagram under wildhoneypoetry. Myself, and the least exciting of them all is under nomadlinnea.
This was very meaningful, thank you so much! We wish you continued success!
About the interviewer: Guernslye Honoré, affectionately known as "Gee-Gee", is an amalgamation of creativity, vision, and endless enthusiasm. She has elegantly twined the worlds of writing, acting, and digital marketing into an inspiring tapestry of achievement. As the creative genius at the heart of Esma Marketing & Publishing, she leads her team to unprecedented heights with her comprehensive understanding of the industry and her innate flair for innovation. Her boundless passion and sense of purpose radiate from every endeavor she undertakes, turning ideas into reality and creating a realm of infinite possibilities. A true dynamo, Gee-Gee's name has become synonymous with inspirational leadership and the art of creating success.
---
Linnea Larsdotter Mikkelä of the Nordic International Film Festival: 5 Things I Wish Someone Told… was originally published in Authority Magazine on Medium, where people are continuing the conversation by highlighting and responding to this story.