An Interview With Martita Mestey
I would have done everything the same way regardless of what someone told me or advice I was given. But I wish people had been encouraging but it is so unique to the individual; my experience with struggles has prepared me for the journey of opening and expanding my business and I wouldn't have wanted to avoid the lessons I learned by making mistakes. The test is moving forward regardless of the struggles and the issues and embracing the change.
In this interview series called "Chefs and Restaurateurs Helping To Promote Healthy Eating," we are talking to chefs and restaurateurs who are helping to promote and raise awareness about healthy eating. The purpose of the series is to amplify their message and share insights about healthy eating with our readers. As a part of this series, we had the distinct pleasure of interviewing Kendra Bauser.
A natural entrepreneur, Bauser conceptualized Three Peaches Gelato + Coffee after discovering healthy and tasty gelato in Italy. After studying alongside the best Gelatiere in Sicily and mastering the authentic product that satisfies any sweet tooth, Bauser knew she had to bring it back to the States.
Bauser has a degree in international business and marketing from George Washington University, as well as a fashion degree from the Fashion Institute of Technology in New York. She lives in Atlanta with her two daughters (peaches) Layla and Valentina.
Thank you so much for doing this with us! Our readers would love to 'get to know' you a bit. Can you share with our readers a story about what inspired you to become a restauranteur or chef?
I went to FIT and never felt like a restauranter, it was about filling a need and a selfish desire to eat the comfort foods I loved but couldn't because of my health issues. Plus I realized a lot of people deal with similar health issues and I felt like that would be a great way to make money. Health and helping people are a passion of mine but it is also about tapping into a market people haven't explored!
Do you have a specific type of food that you focus on? What was it that first drew you to cooking that type of food? Can you share a story about that with us?
What drew me to gelato was an iconic trip to Italy where I was in the midst of my dietary restrictions due to my health and finding this amazing gelato place. Gelato comes from Sicily but when people in Sicily tell you a place to go, you go. He had low sugar options, so many flavors without dairy like chocolate sorbet and I was obsessed with the variations and the freshness. There was nothing like that in the United States and that is what made me want to focus on gelato.
Can you share the funniest or most interesting story that has happened to you since you started? What was the lesson or take away you took out of that story?
I would say so many things happen all the time at my shop; this morning my employee had issues with a coffee machine and it was overflowing but we figured it out! Being hands on I ask the universe to provide me something and you are eventually taught that every issue that may arise is a lesson. For example, recently I felt like I needed help or a partner and the universe suggested my friend but it became a clash unfortunately. We have salvaged the friendship but the lesson happened at the best time. It taught me having a partner may not work but instead focusing on business relationships and keeping some things separate. Keeping a positive attitude and knowing funny things that happen everyday are for a reason is the biggest lesson for me. The most poignant lessons are the ones that hurt the most. 'Keep a positive outlook' or 'make great memories' are platitudes for a reason; it helps you evaluate past experiences with grace and I have allowed myself to keep that attitude working in my new shop.
None of us can be successful without some help along the way. Did you have mentors or cheerleaders who helped you to succeed? Can you tell us a story about their influence?
My mom for sure, she is always there when I call and when I need help. She was also a single mom as I am and we lived in poverty for some time but she was always an inspiration. I didn't realize how into health foods and drinks she was until now. My cheerleaders are my kids, my best friend Amanda who told me I was a warrior princess and I ran with it and it still defines me, and my mentor Sincee who is working with regression therapy, hypnosis, and metaphysical therapies which keeps me motivated and grounded.
In your experience, what is the key to creating a dish that people are crazy about?
The key is creating something like my spring flavored lattes that each have their own speciality and ultimately just tastes really good! Metaphorically, you can choose which candy you want and each one has its own benefit — that's what people are crazy about, is options and something fresh, tasty, AND healthy.
Personally, what is the 'perfect meal' for you?
After working Saturdays my daughter and I get a treat and it is usually Chipotle with their new chicken salad bowl with guacamole, it is the perfect meal.
Where does your inspiration for creating come from? Is there something that you turn to for a daily creativity boost?
I'm just a creative person in general and in my nature; when I work out I listen to various music genres like Kpop, or dance music really loud and I get motivated. Music out of the norm I don't normally listen to boosts my creativity heavily.
Are you working on any new or exciting projects now? What impact do you think this will have?
We are opening a new location in the next few months in Midtown! it gets us a new production space, more growth and more opportunities. It will allow me to cultivate my vision and it is right in the heart of Midtown which will get more visibility and traffic. I am so excited to expand the business and continue serving gelato and coffee to our patrons in Atlanta.
Ok super. Let's now jump to the main part of our interview. You are currently leading an initiative to help promote healthy eating. Can you tell us a bit about what you and your organization are trying to change in our world today?
At Three Peaches we specialize in healthy drinks and dairy free gelato that provides options to those with dietary restrictions or a love for certain boosting ingredients. In my quest to regain my health back and thrive I've found that typical medicine from doctors may not always be the way to go, there are certain protocols but there are other ways to heal. Holistic and herbal solutions have helped my issues and if I can pass that on to others that is what drives me. I know how frustrating it is to be given something that doesn't work. Making your body stronger, healthier and vibrant through what I do at the shop is my passion.
Can you tell us the backstory about what inspired you to originally feel passionate about this cause?
The concept started through my trip to Italy 13 years ago when I had the best gelato with the best Gelatiere in the region, which inspired me to learn the art and bring back what I learned to the U.S. My passion for the gelato and through my struggles with finding dairy-free and low-sugar options for my own health I created Three Peaches Gelato in 2019 with my two peaches aka my daughters, Layla and Valentina.
Without saying specific names, can you tell us a story about a particular individual who was helped by your cause?
My daughters were helped just by seeing that if they follow their passions they can have a great, happy life, by not conforming to traditional ideas. I've also had repeat customers, for example one woman is diabetic because it's low-glycemic and a sweet treat she can enjoy without raising her sugar levels. When I make things for people like the golden latte they often come back to tell me it was exactly what they needed.
Are there three things the community/society/politicians can do to help you address the root of the problem you are trying to solve?
The community and society can help by keeping an open mind to non-traditional options of dessert, looking into fresh ingredients from local vendors, and supporting small and woman owned businesses like Three Peaches who work to provide healthy yummy options to people with dietary restrictions.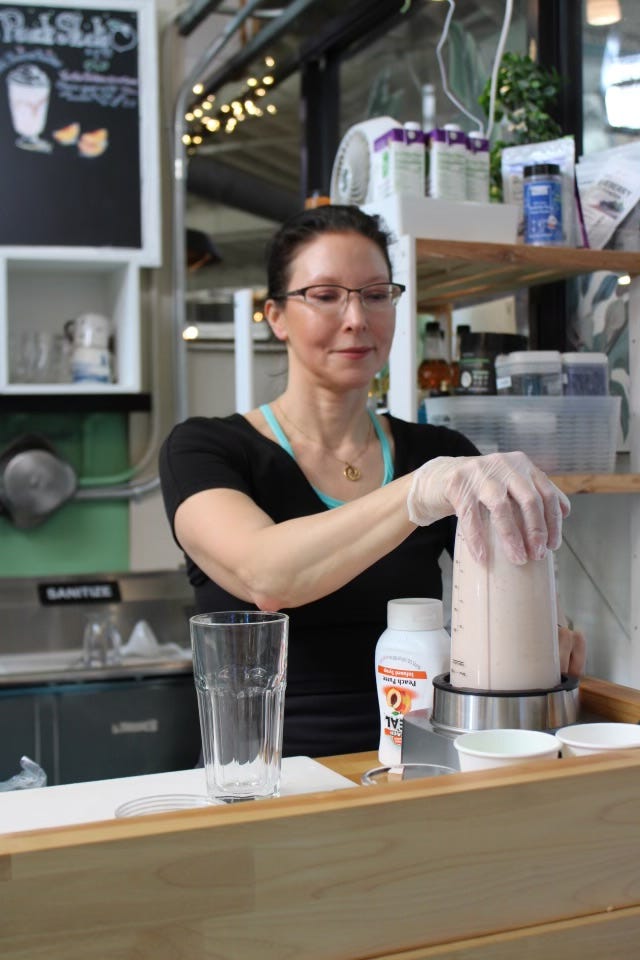 What are your "5 Things I Wish Someone Told Me When I First Started as a Chef or Restaurateur" and why? Please share a story or an example for each.
Honestly, I would have done everything the same way regardless of what someone told me or advice I was given. But I wish people had been encouraging but it is so unique to the individual; my experience with struggles has prepared me for the journey of opening and expanding my business and I wouldn't have wanted to avoid the lessons I learned by making mistakes. The test is moving forward regardless of the struggles and the issues and embracing the change.
Is there a person in the world, or in the US with whom you would like to have a private breakfast or lunch with, and why? He or she might just see this, especially if we tag them. 🙂
Tina Fey is a woman in a male dominated industry who I would love to have lunch with and just have fun and discuss her journey.
How can our readers further follow your work online?
Website: 3peachesgelato.com
This was very meaningful, thank you so much. We wish you only continued success on your great work!
---
How Kendra Bauser Of Three Peaches Gelato & Coffee Is Helping To Promote Healthy Eating was originally published in Authority Magazine on Medium, where people are continuing the conversation by highlighting and responding to this story.