High Impact Philanthropy: Jack Gourdji On How To Leave A Lasting Legacy With A Successful & Effective Nonprofit Organization
An Interview with Karen Mangia
Passionate, Positive, and Skilled Staff/Contactors. Even with the right leadership, you need the right team behind them. The example of the teacher I gave earlier, who mesmerized his students when he spoke, is a case in point. You can't teach something like that. This teacher was dynamic, engaging and endearing to his students and they gravitated to him.
For someone who wants to set aside money to establish a Philanthropic Foundation or Fund, what does it take to make sure your resources are being impactful and truly effective? In this interview series, called "How To Create Philanthropy That Leaves a Lasting Legacy" we are visiting with founders and leaders of Philanthropic Foundations, Charitable Organizations, and Non-Profit Organizations, to talk about the steps they took to create sustainable success.
As a part of this series, I had the pleasure of interviewing Jack Gourdji Executive Director of American Friends Yeshivot and Ulpanot of Bnei Akiva (AFYBA).
Previously to joining AFYBA, Jack spent 12 years as Executive Director of Jewish Institutions, in both schools for children with Special Needs and in Adult Day Programs with YACHAD. Jack holds a BA from Hofstra University and spent 10 years on the Board of his synagogue Anshei Shalom in West Hempstead, NY. AFYBA is a non-profit educational system in Israel, educating 24,000 students from Israel and other countries. AFYBA's diverse curriculum promotes intellectual curiosity in various fields like Jewish religious studies secular studies, arts, and sciences. Their schools consistently earn national recognition for scholastic brilliance, always prioritizing inclusivity by keeping doors open to students irrespective of their financial situations. AFYBA's innovative integration of students hail from diverse backgrounds, including Russia, Ethiopia, India, North America, Europe, South Africa, and Australia. Learn more at https://afyba.org/
Thank you for making time to visit with us about a 'top of mind' topic. Our readers would like to get to know you a bit better. Our readers would like to get to know you a bit better. Can you please tell us about one or two life experiences that most shaped who you are today?
When I was in my early 20's, I worked behind the counter in a delicatessen. One evening the owner came in after being out all day, and said where is the Tongue (one of our best sellers, which our cook never cooked that day)? I told him, I did not know why it was never cooked. When further pressed, I said "It's not my job to cook the Tongue". Oh did I get a lashing for that statement (and well deserved)! There were so many lessons I learned from that one incident, responsibility, ownership, teamwork, standing up for one another and understanding the big picture of an organization, that "if the tongue is not cooked", we all suffer and lose. It's a story I share to this day with my staff.
You are a successful leader. Which three character traits do you think were most instrumental to your success? We would love to hear a few stories or examples.
I will start with Compassion/Empathy. I believe to lead; you need to connect with those around you. Before fully understanding someone's, job skill sets and capabilities, I have always tried to relate to them, who they are and what makes them tick. I take a lot of pride in my positive relationships with my staff, where we both can easily share with the other what is on our minds.
I will then say, a solid work ethic. My attitude walking into a new position, has always been, I have done nothing yet, and I need to prove myself. A lesson from my "Tongue story" I learned, I don't have a specific job I need to do, but I need to see the big picture and make sure the job gets done. A quick story: back in the 90's, I worked for an organization called Global Computer Supplies, as a Product Manager. As an Orthodox Jew, I informed them that in the winter months, I would leave a bit early on Fridays for the Sabbath. They were "OK" with it, but I without a doubt knew they had concerns. Over the next few months, the hours and effort I put in M-TH, more than made up for the hour or two lost on Fridays. My boss came up to me one day and said with a big smile "can we turn everyone in this office into an Orthodox Jew"! It was very nice to hear.
My third choice would be, being a good listener/learner. I genuinely feel I can and have, learned from EVERYONE around me. Titles don't really matter in that regard. A story here. When with JUF/Yachad as Executive Director, we had a Gift Basket business. During the busy season, I joined the team one Sunday to help make the baskets. Firstly, they needed help, but second, I wanted very much to be in the trenches with the team, to help, but also to listen and take mental notes. And I did just that, and I saw and heard things that helped me understand better how to improve the process in the future. Something I would have otherwise not realized.
What's the most interesting discovery you've made since you started leading your organization?
That we at AFYBA know what we have accomplished in educating over 24,000 students in 70 schools throughout Israel and have seen over 80,000 alumni go on to much success, in a variety of different fields…but how few others know about this! I guess that's why I'm here today 😊
Can you please tell our readers more about how you or your organization intends to make a significant social impact?
With 70 schools and over 24,000 students attending those schools, we have something for almost everyone. Schools for boys, schools for girls and schools where students learn and attend the military. We have schools geared towards students coming from abroad, including from Ukraine and Russia. We even have a school specifically for students from Ethiopia. We also have schools focusing on trades, including one that focuses on the Environment and two Music schools, one for boys and one for girls. We are actively trying to help these girls get "gigs" across the world and promote the underappreciated musical talent of women. AFYBA, is committed to an all-encompassing education that ensures that students from diverse backgrounds have access to quality education and that students from diverse backgrounds have access to quality education and that we are contributing to the development of the future leaders of Israel.
What makes you feel passionate about this cause more than any other?
I visited 20–25 of the schools in my first 10 days on the job. As the saying goes "seeing is believing". I was moved beyond what words could describe! I saw students that loved being in school and loved what they were doing. I could see AND feel the warm relationships between teachers and students, students, and students, some of them in the middle of worn-torn areas, learning in caravans! One school stood out, where there were about 100 boys in an assembly/lunchroom. The teacher was speaking and as I scanned the room with my eyes EVERY SINGLE student had his eyes glued to the teacher. No talking among the kids, no heads down, just students glued to the teacher! I never witnessed anything close to that in my life. A testament to the education system without a doubt! When I left and headed back home, I was determined to help provide them with the tangible things needed to make their educational experience far more ideal.
Without naming names, could you share a story about an individual who benefitted from your initiatives?
If you look at the Israeli Knesset today, there are 20–25 individuals who graduated from our schools. Without naming names, as you ask, one of them became Prime Minister! Many of these individuals in the Knesset will tell you themselves (as we try to keep in touch with our Alumni), that the education they received at Yeshivot Bnei Akiva played a significant role in who they are today, in status and as a person.
We all want to help and to live a life of purpose. What are three actions anyone could take to help address the root cause of the problem you're trying to solve?
First, the root cause of the problem we are trying to solve, is that despite receiving funding from the Israeli government, there is still so much more a large institution such as ours needs, to provide students, the proper education needed to excel in life! One action would be volunteering or donating. "Manpower" is always needed both in Israel and here in the US. Financial support can also go a long way. It can be general support for our institutions, or support to a particular school or program we are running. Another action would be awareness campaigns. Become an "Ambassador" in your community and talk up what we have done, accomplished and what we plan on doing in the future, to better the education we provide for our students. The third action I would say is, come and see our schools! It worked for me, I bet it can work for you! Again, our schools are very diverse, and you may see with your own eyes a particular school or program, that takes on added personal meaning to you. We would be happy to arrange a tour.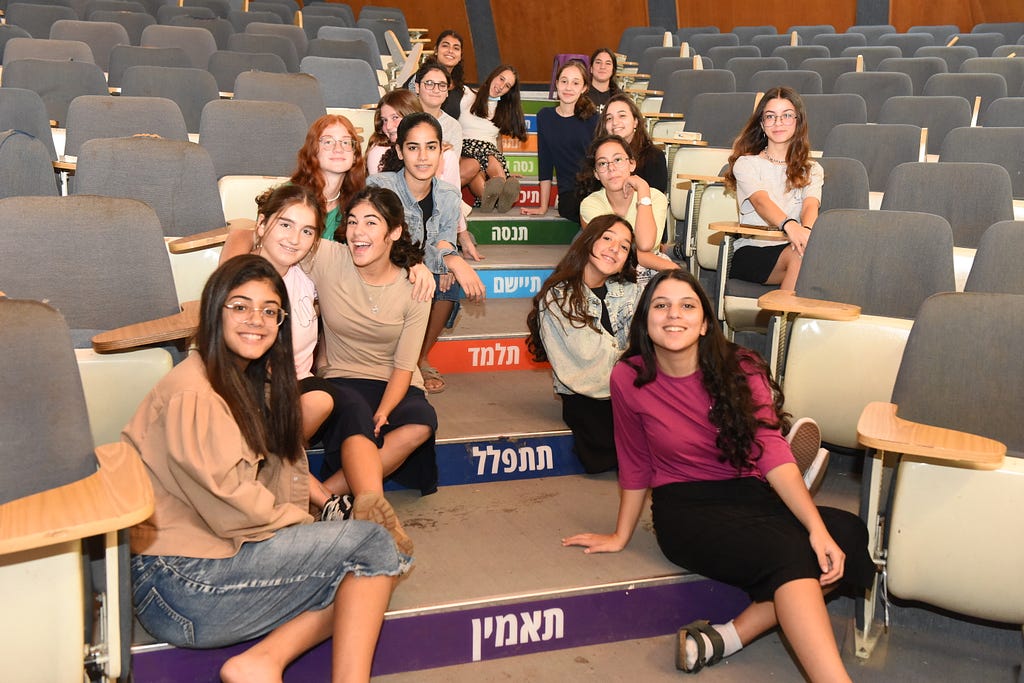 Based on your experience, what are the "5 Things You Need to Create a Successful & Effective Nonprofit That Leaves a Lasting Legacy?"
First, I would say, Active, Involved, and Experienced Lay Leadership/Board Members. Lay Leaders must be invested in the organization's mission. I have worked with Boards that were not very active and involved and others that were very active and involved. There is no comparison with what can be accomplished in reaching an organizations goals, when Lay Leadership is just as passionate about the mission as Senior Management. I would also add, strategic reasons are also a reason to add someone to one's Board. It could be because of logistics, connections they may have, or even a well respected and recognized name in the industry.
Second, Effective and Passionate Senior Leadership. Whether the CEO, Executive Director etc. senior management must believe in the organization's mission and have a realistic vision of how to achieve its goals. They must also be dedicated and passionate about their role and most importantly, they need to pass that on to those around them. One person cannot leave "a lasting legacy" it takes a solid team to accomplish that. I have seen talented leaders with incredible charisma lead by example and have their staff enthusiastically follow. I have also seen talented leaders unable to motivate those around them, leading to a decline in productivity.
Third, Passionate, Positive, and Skilled Staff/Contactors. Even with the right leadership, you need the right team behind them. The example of the teacher I gave earlier, who mesmerized his students when he spoke, is a case in point. You can't teach something like that. This teacher was dynamic, engaging and endearing to his students and they gravitated to him.
Fourth, Responsible Financial Practices. Whether its Budgeting, Financial Oversight, Fundraising Ethics, Cost Control etc., the financial practices you employ and manage are key to whether you will ultimately succeed or not and or to what level of success. I remember in the last industry I was in, one of the most well known and respected names in the industry abruptly closed their doors and folded. This all took place after an audit on them was done, revealing much mismanaged financial practices.
Fifth, and maybe not on everyone's radar, but it certainly is on mine, is Collaboration. Collaboration is essential for achieving organizational goals, for sterling innovations and ideas and creating a positive work culture. It leverages the collective strengths of employees, leading to increased efficiency, creativity and overall success.
How has the Pandemic changed your definition of success?
I believe that Health & Holistic Well-Being as well as Work Life Balance are now very much a part of the definition of success. This was not the case pre-Pandemic. Remote work or a hybrid of remote and office work are also very important in this post pandemic stage. Pre-Pandemic, everything was about personal achievement and now meaningful living is also a huge part of our definition of success.
How do you get inspired after an inevitable setback?
Setbacks are opportunities for growth and learning. I try and analyze what went wrong and what I could do differently the next time. I think the inspiration peaks when you wish you could do it again (and sometimes you can) and you can visualize what changes you would make to achieve a different and optimum result.
We are very blessed that very prominent leaders read this column. Is there a person in the world who you would like to talk to, to share the idea behind your non-profit? He, she, or they might just see this, especially if we tag them.
I would like to talk to ANYBODY who believes in and is passionate about the Welfare and Prosperity of the State of Israel. Please know, we are educating tomorrow's leadership and I would be honored to talk with you, so that together we can discuss, plan and further help educate tomorrow's leadership.
You're doing important work. How can our readers follow your progress online?
Readers can stay updated on AFYBA's progress and initiatives by visiting our website at afyba.org. We regularly share updates, success stories, and ways to get involved in our mission.
Thank you for a meaningful conversation. We wish you continued success with your mission.
Thank you very much and thank you for giving me the opportunity to discuss our mission and initiatives. Your support and well wishes are greatly appreciated!
About The Interviewer: Karen Mangia is one of the most sought-after keynote speakers in the world, sharing her thought leadership with over 10,000 organizations during the course of her career. As Vice President of Customer and Market Insights at Salesforce, she helps individuals and organizations define, design and deliver the future. Discover her proven strategies to access your own success in her fourth book Success from Anywhere and by connecting with her on LinkedIn and Twitter.
---
High Impact Philanthropy: Jack Gourdji On How To Leave A Lasting Legacy With A Successful &… was originally published in Authority Magazine on Medium, where people are continuing the conversation by highlighting and responding to this story.