Chef Michael Reed Of Poppy + Rose, Poppy & Seed: 5 Things I Wish Someone Told Me Before I Became a Chef
An Interview With Martita Mestey
Invest in your tools: It may sound simple, but kitchen tools can be quite costly, especially if you're purchasing high-quality knives. Start by getting one, gradually expanding your collection and repertoire. Consider it an investment in yourself since you'll be using these tools every day.
As a part of our series about the lessons from influential 'TasteMakers', I had the distinct pleasure of interviewing Chef Michael Reed.
Chef Michael Reed is a classically trained chef and restaurateur, who has spent 19 years as a chef for restaurants across New York and Los Angeles. Today, Chef Reed is the co-owner and executive chef behind two Los Angeles restaurants, Poppy + Rose of Downtown and Anaheim's Poppy & Seed. In addition to the two concepts, Micheal and his wife/business partner, Kwini also run an upscale catering company, Root of All Food.
Born and raised in Oxnard, California — Chef Reed comes from a family with a passion for food. Thanks to his parents, Michael grew up around the barbeque and the smell of fresh, home-made pies. His family cooked everyday, pulling ingredients straight from the garden which went on to inspire Michael's passion for food and hospitality. After starting down a collegiate path that was separated from the food industry at University of Santa Barbara, Michael quickly realized that he needed to make a change. Months later, Michael was enrolled in the Culinary Institute of America in New York.
While in culinary school, Michael Reed cooked at The Modern, the acclaimed restaurant at the Museum of Modern Art in Manhattan. After graduating in 2008, Reed returned to Southern California and worked at David Myer's Michelin-star rated Sona, as well Xiomara per a recommendation from Nancy Silverton at the age of 26.
In 2011, Chef Reed created high-end catering company, Root of All Food which specializes in high-end boutique catering, in-home cooking and events, and catering to Southern California. Some of Root to All Food's previous clients have included Gwen Stefani, Gavin Rossdale, The W Hotel, and Sugar Ray Leonard. During the summer of 2014, Michael opened DTLA brunch darling, Poppy + Rose, a restaurant that specializes in classic American diner-fare made from scratch with a seasonal menu. He owns the restaurant alongside his wife, Kwini Reed. In 2021, Poppy & Seed opened to branch into service of a more upscale cuisine in a modern greenhouse setting. Located in Orange County's Packing District, the new restaurant totes a menu of refined American fare. Coming up in the near future, a new Poppy project will be finalized in both West Harbor and San Pedro, acting as a seamless combination of the two pre existing concepts.
Over the years, Poppy + Rose and Poppy & Seed have collected many accolades including Orange Coast Magazine's "Best New Restaurant" (Poppy & Seed) and CBS Los Angeles' "Best All-Day Breakfast Restaurants in LA" (Poppy + Rose). In 2022, Chef Reed surpassed his competitors and Iron Chef, Alex Guarnaschelli to win Food Network's Alex vs. America. Michael's work has also been captured on film by Food & Wine, Access Hollywood, CBS, The Dish, among others. As of 2023, Michael was recognized as one of the James Beard Foundation Award semifinalists in the Best Chef: California division and under restaurant, Poppy & Seed, added to the California Michelin Guide.
Outside of his culinary duties, Michael and Kwini are also in the process of developing a nonprofit to help convey the importance and potential of food to younger generations by coordinating lessons with local chefs, internship programs, and more. At home, Michael's favorite dishes to cook include comforting meals like risotto and hand-made pasta. When he is not knife-in-hand, Michael can be found gardening, tending to his Koi Pond, and spending time with his wife, Kwini and daughter, Mackenzie.
Thank you so much for doing this with us! Our readers would love to 'get to know' you a bit. Can you share with our readers a story about what inspired you to become a restauranteur or chef?
You know, my grandfather grew up in Memphis as a black man. He owned apartment complexes and ran his own business. He always emphasized the importance of independence and freedom through ownership. Inspired by his wisdom, at the age of 21, I made a commitment to myself: I would own my own restaurant by the time I turned 30.
By that point, I had been working in renowned Michelin Star-rated restaurants like Sona and Xiomara. I was bouncing around, gaining valuable experience, and, surprisingly, I landed my first executive chef position at the age of 26. However, I found myself burning out because I was too young and already holding the title of executive chef.
So, I switched gears and founded my catering company, Root of All Food, which is now 12 years old. It grew to the point of outgrowing our workspace in Santa Monica. During the search for a new location, we stumbled upon the space we currently occupy for Poppy + Rose, which initially was a restaurant. Consequently, we had to open it as a restaurant rather than just a catering kitchen. This led us to develop the concept of Poppy + Rose, an all-brunch restaurant located in downtown Los Angeles within the flower district.
To service the local Flower District community that opens at 2 a.m and closes by 12 in the afternoon, our restaurant clearly had to be brunch-focused to work in our favor. As a result, we created a concept that's now nine years old, consistently attracting long lines of visitors for nearly a decade. It has become one of Los Angeles' favorite brunch spots.
I followed my father's and my granddad's advice and embarked on my entrepreneurial journey. It has not only been successful but has also allowed us to give back to the homeless population in downtown Los Angeles. It's one of those unexpectedly enjoyable journeys where, guided by the wisdom of my granddad and dad, I pursued the dream of being a restaurateur. And that's how Poppy + Rose began.
Do you have a specific type of food that you focus on? What was it that first drew you to cooking that type of food? Can you share a story about that with us?
When I was at school in upstate New York at the Culinary Institute of America in New York, I cooked at The Modern, the acclaimed restaurant at the Museum of Modern Art in Manhattan under Gabriel Kreuther. It was a Michelin ultra fine dining, old school brigade experience and that was my first taste of it. It just blew me away how intricate and how detailed and how focused the team was.
I always preferred cooking on the higher end of the culinary spectrum, particularly during my time as an intern. There were options for either paid or unpaid internships, depending on the establishment you worked for. In my case, I was mostly a paid intern. So when I returned to LA, I chose to focus on fine dining. My reasoning was that either way you're paid very little to cook, whether it's flipping burgers or preparing high-end dishes, the pay was roughly the same when I began. I thought it made sense to work with the highest quality ingredients and truly concentrate on honing my craft in fine dining.
That's exactly what I did. When the opportunity came to create Poppy & Seed, our casual fine dining restaurant here in Anaheim, I concentrated on California's culinary offerings. Being a California native, hailing from Southern California and growing up in Ventura County, a farming community near the beach, I utilize the finest products California has to offer. I combine them with my classic culinary techniques and the expertise I've acquired over the years in fine dining. The result is something familiar yet with a unique twist. It's a dish that you might recognize conceptually, but when it's presented on the plate, it surprises you with its innovative approach. This allows me to be more creative with my food and have fun with it.
Can you share the funniest or most interesting story that has happened to you since you became a chef? What was the lesson or take away you took out of that story?
I would say I think that we all learned a lot from the pandemic. Before the pandemic I was running two hotels, one in Koreatown, one in Beverly Hills, but the pandemic shut all those down. We tried to make that transition to take out but it was very difficult. Most of my staff and team filed for unemployment, but they still were rattling around the restaurant that we were trying to maintain in that troubled time. And, you know, we were really struggling, but seeing how much our staff loved us and how far they were willing to go to support my wife and me as owners, it really meant a lot. Our staff showed that they were ready to work with us and do whatever it took to get us through that time. We actually came together and banded together, truly showcasing what we could do as a family.
Can you tell us a story about the hard times that you faced when you first started your journey? How did you overcome this obstacle?
You know, being a Black Executive Chef working for Corporate America in big restaurants, your voice isn't always heard, compared to your counterparts. So I learned a lot, you know, to over perform, to make sure my deadlines were met. Sometimes, it felt like there was a double standard compared to other chefs who were of equal or lesser caliber.
These experiences significantly shaped my work ethic, which I continue to uphold in my personal and professional life today. It's about maintaining high standards for myself. This is why we strive to create a different environment where we genuinely listen to and support our employees, valuing their opinions. Because I got to see what corporate America was, which is why we try to create a different environment where we actually hear our employees, we support our employees, and we value their opinions
In your experience, what is the key to creating a dish that customers are crazy about?
For our dishes at Poppy & Seed, we emphasize the fundamentals of flavors: sweet, savory, and acidic. We aim to ensure that each dish offers a combination of textures and flavors, creating depth while using as few components as possible. Nothing we place on our plates is without purpose; even the various herbs we use subtly alter the flavor profile. For instance, we may add chopped mint to our steak, a seemingly simple addition that introduces a burst of brightness not commonly found in other restaurants. This freshness complements the richness and heaviness of the dish.
Personally, what is the 'perfect meal for you'?
If you're talking about a normal day where I've been working all day, I go for a really good Mexican burrito from Tere's or ramen from Tatsu. If I'm out with my wife, it's literally, I wanna sit down and have a 90-minute meal here I don't have to think and just let the chef showcase what they do. So we'll go to fine dining restaurants here in LA, we'll travel abroad, San Francisco, and Chicago, and try and eat at one dine-in restaurant, just to have that experience, you know, to see what other chefs are doing.
Where does your inspiration for creating come from? Is there something that you turn to for a daily creativity boost?
In today's digital age, it's quite interesting; it all comes down to who you follow. Instagram is brimming with fascinating posts from various Michelin-star chefs and home cooks, all engaged in exciting culinary endeavors. As a chef, there's always something fresh and captivating to discover. Every year brings a wave of new and unique culinary trends. So, I constantly engage with this content, frequently purchasing diverse cookbooks from different authors and establishments. I find joy in reading and learning, as there's always room for new knowledge or a more efficient technique to improve my skills.
Are you working on any new or exciting projects now? What impact do you think this will have?
Yeah, so we're adding our third location, the second one for Poppy + Rose, and it's the third restaurant for our group. This new spot is set to open in 2024 in San Pedro as part of the West Harbor project. It's essentially in final development on the waterfront in Southern California.
Within this flagship restaurant, we're introducing an exciting concept that combines Poppy + Rose with Poppy & Seed. There will be a back room tailored for chef's tasting menus and higher-end dining experiences. Towards the front, near the bar, you can still enjoy our classic comfort food offerings, along with dinner options from Poppy + Rose.
The highlight will be a 2,000 square foot garden where we'll grow some of our own ingredients. The location in San Pedro, right on the marina, is simply stunning, and we're looking forward to its opening next year.
What advice would you give to other chefs or restaurateurs to thrive and avoid burnout?
Let's see. Don't feel compelled to follow the typical trend that the environment sets for us. Many people assume chefs are raging alcoholics, and while some of us certainly enjoy a drink, my advice is to take it slow. Stay dedicated to your craft and try not to overindulge in drinking. You'll find that you're a happier person and wake up without regrets. To be honest, that's sound advice for everyone, not just chefs.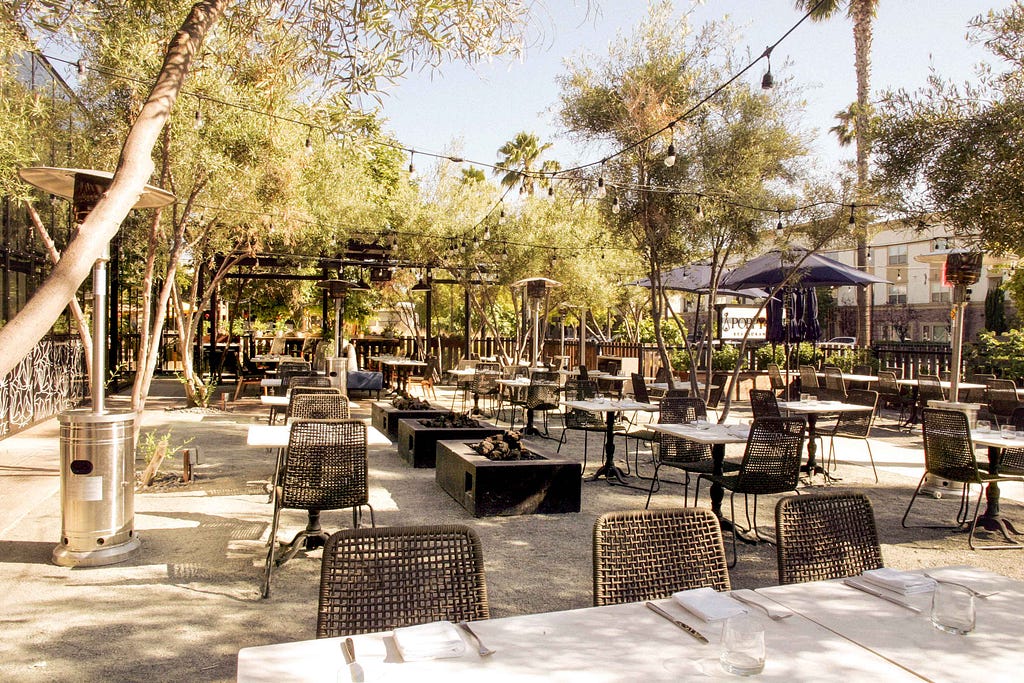 Thank you for all that. Now we are ready for the main question of the interview. What are your "5 Things I Wish Someone Told Me When I First Started as a Chef" and why?
Take things slowly: I wish I would have taken it a little bit slower in my career, and worked under more chefs or stayed longer with chefs.
Take basic accounting classes: Consider taking basic accounting classes to gain an understanding of what a P&L (Profit and Loss statement) is and how to read it. Many individuals involved in the restaurant industry are creative, but they often lack comprehension of the financial aspects. In my case, I attended business school, which equipped me with the skills to interpret a P & L. Having a grasp of accounting will greatly contribute to the success of your restaurant and reduce the risk of it closing within a year.
Invest in your tools: It may sound simple, but kitchen tools can be quite costly, especially if you're purchasing high-quality knives. Start by getting one, gradually expanding your collection and repertoire. Consider it an investment in yourself since you'll be using these tools every day.
Make friends: Try and make friends in the industry. It's a small world, so avoid burning bridges. Seek out a mentor who is more experienced and has accomplished more than you, ideally someone older.
Have fun: Remember that you're here for hospitality and it's just cooking, so have fun.
What's the one dish people have to try if they visit your establishment?
For Poppy + Rose: Probably our signature dishes are the pulled pork hash and the fried chicken waffle. The pulled pork hash is a unique creation, and we're one of the few restaurants that offer it. We form it into a square brick, which results in a crispy exterior and a light, fluffy interior. This delightful dish combines slow-roasted pork with our house-made barbecue sauce, topped with eggs and creme fraiche. It's a rich, decadent, and indulgent treat. As for the fried chicken and waffle, our brown butter waffle has a distinctive nutty flavor that sets it apart from a traditional Belgian-style waffle. Paired with perfectly brined and crisply fried chicken, it's a combination that's simply irresistible.
For Poppy & Seed: The Rosewood Hanger Steak is a standout dish for us. We proudly source the Texas Wagyu Hanger Steak from Rosewood, making us the exclusive Southern California restaurant offering this exceptional cut. We procure all our steaks from a small farm in Texas, specializing in Wagyu beef. This steak is a melt-in-your-mouth experience, bursting with flavor. The concept is elegantly simple — steak and potatoes, enhanced by aged balsamic, finishing olive oil, a touch of red bell mustard, mint, and garden-fresh soil. It's straightforward yet easily the best steak I've ever tasted.
You are a person of enormous influence. If you could inspire a movement that would bring the most amount of good to the most amount of people, what would that be? You never know what your idea can trigger.
Honestly, I wish the United States was more like Europe and other countries because I want to do away with the tipping system. I hate tips. I wish we could just charge a fair wage.
Thank you so much for these insights. This was very inspirational!
---
Chef Michael Reed Of Poppy + Rose, Poppy & Seed: 5 Things I Wish Someone Told Me Before I Became a… was originally published in Authority Magazine on Medium, where people are continuing the conversation by highlighting and responding to this story.