An Interview With Martita Mestey
That the fine dining world can be cutthroat. Not much to add to that other than everyone wants to be someone, so they'll do whatever to whoever to get what they want.
As part of our series about the lessons from influential 'TasteMakers', I had the distinct pleasure of interviewing Chef Matthew Petersen, Director of Manufacturing for Jushi Holdings Inc., a vertically-integrated, multi-state cannabis operator. As the former second runner up and fan favorite on Bravo's Top Chef: Just Desserts' ('11), Matthew Petersen has an extensive background in the culinary arts. Petersen brings a unique, fine-dining touch to Jushi's new infused product lines via his baking and pastry education, in which he explored both traditional and contemporary techniques in the production of breads, pastries, cakes and desserts. He served as an executive pastry chef at CityZen, working with James Beard Award Winner Eric Ziebold at the Mandarin Oriental in Washington, D.C., and holds an Associate Degree in Baking & Pastry Arts from Johnson and Wales University.
Prior to his tenure at CityZen working with James Beard Award Winner Eric Ziebold, Matthew worked for Daniel Boulud in New York City at contemporary French restaurant, db Bistro Moderne, and also served as executive pastry chef at Café Boulud in Palm Beach for two years. Before that, Matthew was the pastry chef at two of Philadelphia's most coveted dining destinations — LaCroix and Morimoto.
Thank you so much for doing this with us! Our readers would love to 'get to know' you a bit. Can you share with our readers a story about what inspired you to become a restauranteur or chef?
Cooking is something I've always been passionate about and food was a big part of my daily life growing up. I come from a long line of bakers in my family: my Grandmother, Mother and Aunts would all bake for special occasions. It was only natural that I was drawn to food.
Do you have a specific type of food that you focus on? What was it that first drew you to cooking that type of food? Can you share a story about that with us?
I am a trained pastry chef but I started out on the savory side of the kitchen, as most pastry chefs do. Naturally, I love making anything sweet, but I'm not a one-trick pony. Baking is a science, but there is more to cooking. All of your senses need to come together to form a perfect union. I am especially drawn towards French cuisine because of the history and flavors, but also because that's where a lot of refined pastry originates from.
When I was working in Philadelphia at LaCroix, I was invited to cook in NYC with James Beard Award Winner, Daniel Boulud, and his team. I spent a weekend learning and watching their dinner services which opened up a whole new world of cooking to me. I remember having dinner at db Bistro in Midtown with Dominique Ansel, and they brought out some fresh baked Madeleine's at the end of the meal. These things were absolutely amazing. I had eaten them before, but not like this. They're freshly baked and immediately brought to the table at all of Daniel's restaurants; you've not experienced a true Madeleine until you've had them fresh out of the oven. To this day, my kids and I will make Madeleine's just so we can eat them hot and fresh, the way they're meant to be.
Can you share the funniest or most interesting story that has happened to you since you became a chef? What was the lesson or take away you took out of that story?
Oh man, so many things happen in a day at a professional kitchen, this is one of many.
I was cooking at a special event in Charleston, South Carolina, and as I arrived at the event, I was trying to find my place to set up. There were a bunch of famous chefs who were cooking that evening and I didn't know who all of them were at the time. I was looking around and nobody was really giving me directions because they're all focused on what they're doing, so I politely asked one of the chefs, "Hey do you know where I'm supposed to put my stuff?" and he just ignored me. So I ask him again, and he turns around and looks at me and says, "Do you know who I am?" Bewildered, I'm like "No, who are you?" So he tells me his name, "I'm ____!!!"
It still didn't register with me who this person was but other people in the room were looking at me like "did he just do that?" I left the room and I found out where I'm supposed to put my stuff; a little while later I'm talking with one of my friends about the experience and the consensus was that this chef is a complete jerk, but big surprise, he is super famous. I won't give you his name here, but that experience taught me to be humble and realize that you never know who you're speaking to and what their circumstances are.
Treat people with respect and hopefully you'll get it in return.
Can you tell us a story about the hard times that you faced when you first started your journey? How did you overcome this obstacle?
Every day in a professional kitchen is very challenging and difficult. I may be somewhat of a masochist because I continued to go back for more. You have to be okay with sacrifice; sacrificing your time, your energy, your relationships — all of those things come into play when you cook at a high level. I wanted to make my family proud and make myself proud, so I just kept my head down and persevered.
In your experience, what is the key to creating a dish that customers are crazy about?
Being okay with failure and not giving up.
Personally, what is the 'perfect meal for you'?
Roasted chicken and potatoes with demi glace. Sublime. Add some chocolate chip cookies and we're in business.
Where does your inspiration for creating come from? Is there something that you turn to for a daily creativity boost?
Sometimes it just hits you when you taste a particular flavor, but other times you have to dig around and see what comes about. I often would purposefully not look at magazines or books because I wanted my creativity to be all me, but that's not really how creativity works. I would have to say that my biggest inspiration are the people and places around me.
Are you working on any new or exciting projects now? What impact do you think this will have?
I'm so glad you asked. After shifting away from the restaurant world, I was working with a cannabis retailer in Massachusetts called Nature's Remedy of Massachusetts when it was acquired by national cannabis company, Jushi Holdings Inc. The team wanted to bring what I have to offer to a wider audience, which has given me the chance to combine my culinary experience with my knowledge of cannabis and infusion.
One of the first major projects I have been spearheading has been a complete rebrand of Jushi's Tasteology product line. The end goal was to create infused Chocolates and Chews that are made with high-quality ingredients and are truly delicious, and we were so excited to finally bring this updated line to our consumers last year
We've started developing some newer cannabis-infused chocolate bars and I'm definitely hot to trot on, and there are some other products that I hope will be in development soon. The rebranded Tasteology line has been a hit, and I think the new products we're working on now will take it to the next level. Developing cannabis products is a unique challenge, as there are many more contributors with a lot of different ideas. That process is incredibly fun though, and I'm looking forward to seeing what we cook up.
What advice would you give to other chefs or restaurateurs to thrive and avoid burnout?
Build in time to get away from the kitchen and decompress. Rely on those around you, they need you too. Overall, love what you do, it makes the days much easier to get through.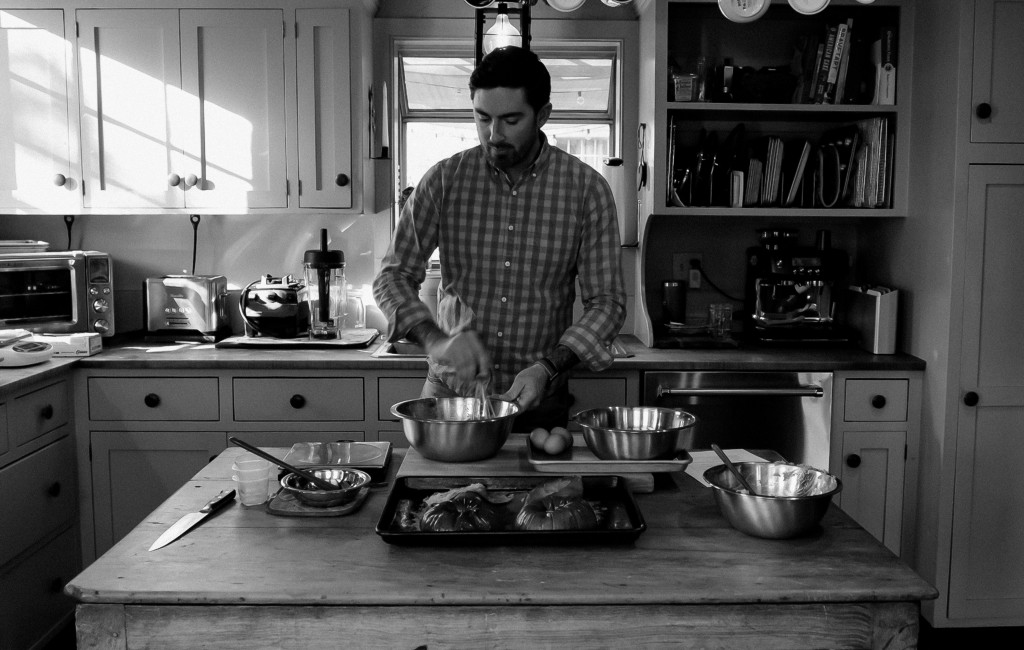 Thank you for all that. Now we are ready for the main question of the interview. What are your "5 Things I Wish Someone Told Me When I First Started as a Chef" and why?
That a 12–15 hour day was normal — this would not have deterred me, however.
That you might fall in love with the work and lose track of time — this would happen to me constantly, up until my first child was a toddler.
That people would constantly ask you to cook for them, which is flattering but often challenging because they would expect a 5-star meal but what I really want is something normal.
That there is a ceiling for upward career movement, unless you diversify, which I did not. I could run a restaurant front to back no problem but I did not obtain the business degree that so many employers look for.
That the fine dining world can be cutthroat. Not much to add to that other than everyone wants to be someone, so they'll do whatever to whoever to get what they want.
What's the one dish people have to try if they visit your establishment?
When I was back in the restaurant world, I would have said my chocolate hazelnut bar with feuilletine and chocolate sorbet. But now that I have shifted my focus towards the cannabis industry and infused desserts, I'm all about our infused Tasteology products. For this line, we sourced the best ingredients and focused on infusing these with unique terpene blends and minor cannabinoids like CBD and CBN for specific experiences. The Tasteology Chews are made with real fruit purées by Ponthier, and use pectin rather than gelatin, so they're vegan and gluten free. When making the Tasteology Chocolates, we were determined to bring consumers an all-natural product that's also genuinely delicious. I have used Valrhona's chocolate exclusively since 2005, so it was a no-brainer that we partnered with them to make these chocolates. Hospitality is very important to me, so when it comes to who I collaborate with, I focus on companies that really value their people and customers. Valrhona truly cares about their team and their customers and makes some damn good chocolate, so I really love working with them.
As of right now, you can find Tasteology in Massachusetts and exclusively at our California Beyond Hello stores and we are expanding to Virginia, Nevada, and Ohio in the coming months. I am so proud of what we came up with here, and I can't wait for more people to get their hands on them.
You are a person of enormous influence. If you could inspire a movement that would bring the most amount of good to the most amount of people, what would that be? You never know what your idea can trigger.
It sounds cliché but let's show more compassion and empathy to each other because you never know what someone is struggling with. Mental health is something that affects us all but is rarely spoken about. I certainly struggle with it at times and have endured many hardships because of it. Talking about it is hard and I've found that I feel a lot better when I do, but there are certain things that I still struggle with everyday. Look around you and say hi to someone, ask them how they're doing, spend time getting to know them.
Thank you so much for these insights. This was very inspirational!
---
Matthew Petersen Of Jushi Holdings: 5 Things I Wish Someone Told Me Before I Became a Chef was originally published in Authority Magazine on Medium, where people are continuing the conversation by highlighting and responding to this story.