Kenny Lynn Of EXIT Southeast On How to Go Beyond Your Comfort Zone to Grow Both Personally and Professionally
An Interview With Maria Angelova
Do your homework, know your competitor and have a strategy. Knowledge will provide the path to lead you out of your comfort zone.
It feels most comfortable to stick with what we are familiar with. But anyone who has achieved great success will tell you that true growth comes from pushing yourself out of your comfort zone. What are some ways that influential people have pushed themselves out of their comfort zone to grow both personally and professionally? As a part of this series, I had the pleasure of interviewing Kenny Lynn.
With a competitive love of racing and business, Kenny Lynn has made a career of successfully growing companies, and, today, focuses on the growth and development of the five-state, EXIT Southeast real estate region of Florida, Georgia, Kentucky, Tennessee and Texas with the goal and drive to be #1 — something Kenny strives for daily. Now celebrating ten years of offering cutting edge technology, solid branding, an unbeatable culture and residual opportunities, the Nashville native has earned #1 in franchise sales for the past eight years, honored multiple times as the #1 region for EXIT Realty Corp. International and broke the all-time corporate sales record in 2019 while offering advanced technology, solid branding, an unbeatable culture and re-invented real estate taking it next level with single-level residual opportunities. Holding a National Hot Rod Association (NHRA) license, off-hours find Kenny drag racing up to 155 MPH on the weekends with his latest dragster.
Thank you so much for doing this with us! Before we start, our readers would love to "get to know you" a bit better. Can you tell us a bit about your childhood backstory?
Growing up in Middle Tennessee, my competitive spirit came out in school sports where I played baseball, as pitcher and catcher, as well as football. I had to practice and give it my all or my father would call me on my lack effort! I also worked a lot. My dad had me working at eight and nine-years-old pumping gas at his gas station. As a young kid, I would drag a lawnmower and gas can through the neighborhood knocking on doors to get customers. It was hard work knocking on doors and selling my services to these new customers, and, this has helped me today in learning to gain the trust of potential franchise owners. A very difficult turning point was losing my father from a sudden heart attack as a young adult and this had a huge impact. My dad was my father, best friend and partner in business. The loss was on so many levels. It was very difficult and my first experience with death. It took me at least five years before I could open up my heart again and overcome this loss. It really made me realize the importance of being in a happy relationship and not leaving anything undone. I never go be bed mad at my significant other. I learned to settle things and never carry it over to the next day.
Can you please give us your favorite "Life Lesson Quote"? Can you share how that was relevant to you in your life?
This too shall pass. Sometimes we get caught up in what is happening in the moment whether it's positive or negative and we forget that tomorrow is a new day. Everything changes whether it's things we are struggling with or whether we're at one of the best places in our lives. We all need to understand that every day is a new day.
Is there a particular book, podcast, or film that made a significant impact on you? Can you share a story or explain why it resonated with you so much?
I love the Rocky movie series and I think it demonstrates so many life lessons. Some of the things that really hit home to me was his ability to keep on going no matter how hard he got hit. Learning who was a true friend and who was not was key to his ability to continue to move forward and with the proper focus. As the series progressed one thing that really stood out to me was his willingness to switch from being the star in the center of ring to being a mentor for the younger generation. That's one of the greatest things I believe we can do as leaders is to lift up the generations coming behind us and do everything we can to support them and gift them with our knowledge and expertise. Many of these things you cannot learn any other way.
Let's now shift to the main part of our discussion. Let's start with a basic definition so that all of us are on the same page. What does "getting outside of your comfort zone" mean?
People who are ultimately successful in their field simply do the things that other people will not do. For me, it's doing things that I really don't feel like doing and pushing myself out of the comfort zone.
Can you help articulate a few reasons why it is important to get out of your comfort zone?
We must constantly be evolving and stretching in our abilities to get out of our comfort zone. Most of that growth comes through struggle and getting out of our pattern of sameness. Seamless in any industry does not allow for future growth.
Is it possible to grow without leaving your comfort zone? Can you explain what you mean?
it's possible to grow without getting out of your comfort zone, but, your growth may not be in ways that are very positive perhaps growing more cynical or becoming more complacent. I believe that the good growth comes from the stretching.
Can you share some anecdotes from your personal experience? Can you share a story about a time when you stepped out of your comfort zone and how it helped you grow? How does it feel to take those first difficult steps?
As a drag racer, I've learned a lot of lessons to weave into my personal business. With racing, you can make a mistake and die. When I went from a body car to a dragster, I felt like they were faster and lower to the ground, but, you can see better and you can run the competition down. I can make the last call for the win. What I've learned in racing is you get comfortable. There is a right or left lane, but when it gets down to the end of the night, you can get tossed out of the lane. My mind would go crazy in a different lane. I would be a wreck thinking I would give that race up. After I spent a season losing and I learned I had to know both lanes. Once I got into a new mindset, I knew I could win in the right or left lane. I knew mentally they were experiencing that same discomfort as me. In racing, you have one shot or you go home. If you lose the race, you are going home. If you have personal issues or business going through your mind, you can't take it to the racetrack. You have to take the negative and turn it into positive energy, because, if you don't, you are going home quickly. In business, you get going so fast. I know if I slow it down, it makes my vision more clear just like in racing. This works in business the same way and you can make mistakes. You lose the race. You have to learn what's the best lane to slow down in and take a look at your life and make better decisions. Visual the picture of winning!
You can get comfortable going 155 miles an hour in 45 seconds in front of thousands of people. You stop looking at your safety. One time, I took off my fire suit one day and burned myself on an exhaust headers — taking my eye off the prize. Ultimately, I blocked the pain out for 5 seconds, my mind went to a different place and zone and won the race. I sucked it up, forgot about the pain and won the race. You have to outthink your competitor. You mind has to stay focused all the time, especially in the racing business.
There are two different things, being competitive and being fast. But, fast doesn't win. You have to have a strategy.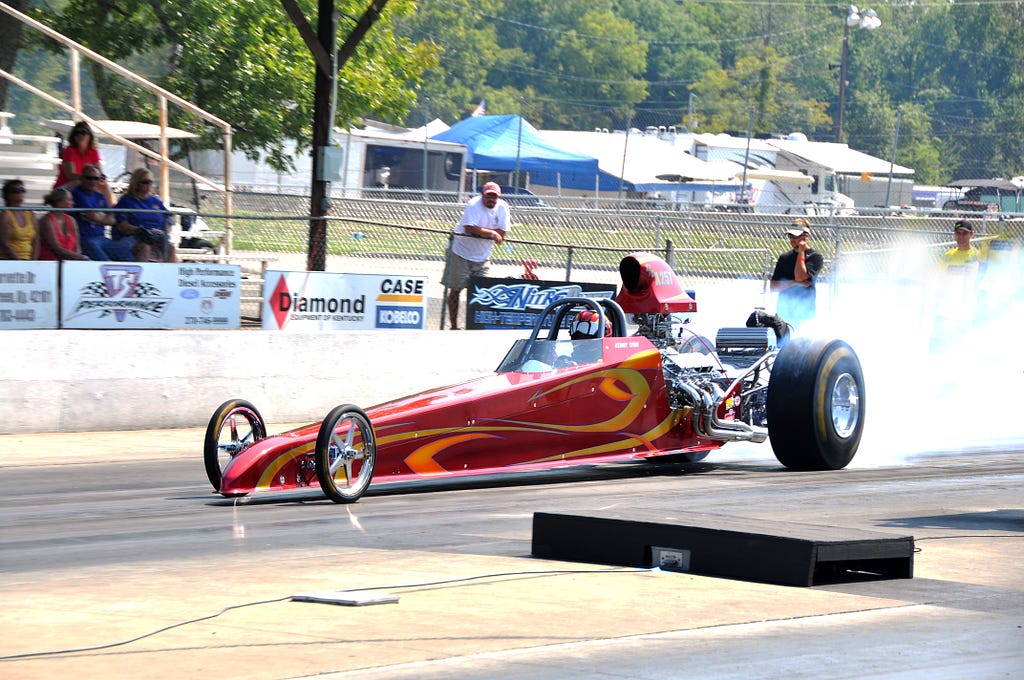 Here is the central question of our discussion. What are your "five ways to push past your comfort zone, to grow both personally and professionally"?
1. Knowledge is the path.
Do your homework, know your competitor and have a strategy. Knowledge will provide the path to lead you out of your comfort zone.
2. Know the worst-case scenarios.
It's always bigger in our head. If you research and keep the situation in perspective, you'll realize no matter the end result, it is not the end of the world or your career.
3. Analyze what you have to lose.
If it is fixable with money and no one is dying, it is not a real problem.
4. Push past the fear.
In 2017, I had a potentially career ending wreck. I had to decide if I wanted to get in a car and race again or sell the car. I had to take a breath and jump. I needed to know I could push past the fear and do it again.
5. Break it down into smaller action steps.
Begin with one and then build on the steps to help you push past your comfortable zone and grow.
From your experience or perspective, what are some of the common barriers that keep someone from pushing out of their comfort zone?
Settling into certain habits can keep you from pushing past your comfort zone. Being a student in life is key to anyone's evolution. People are creatures of habit, for example. like food choices. Some people won't try new food or experiences. Be a person who tries new experiences, learns new things and you'll grow beyond your comfort zone. Have people around you who will encourage you to do new things. Some people can destroy you with negative energy and keep you in that same zone. Keep your mind right and don't let anyone take the steering wheel from you and keep driving the boat toward a positive direction. Get rid of any type of negativity. Surround yourself with positive people.
There is a well-known quote attributed to Eleanor Roosevelt that says, "Do something that scares you every day". What exactly does this mean to you? Is there inherent value in doing something that pushes you out of your comfort zone, even if it does not relate to personal or professional growth? For example, if one is uncomfortable about walking alone at night should they purposely push themselves to do it often for the sake of going beyond their comfort zone? Can you please explain what you mean?
There's definitely value in doing something that pushes you out of your comfort zone but pushing past the thing that scares you needs to make sense to you personally. If getting past it has no real meaning for you and your life, then let it go. You have to know the end result to see if it is worth it for you. Know your why of getting out of comfort zone, and, if it is not your thing, move on.
You are a person of great influence. If you could inspire a movement that would bring the most amount of good to the most amount of people, what would that be?
EXIT Southeast is now celebrating a decade in business, and, within our company, everyone is equal and has the same benefit and opportunity as someone who joined it years ago. Everyone has this same opportunity and there is a vested interest to inspire and lift others up. It is a nurturing culture. There is enough pie for everyone and if we run out, we'll make more. Competition is healthy but you can still have winners without defeating others. Helping people understand this and empowering success daily is something I am always striving to succeed in.
Is there a person in the world whom you would love to have lunch with, and why? Maybe we can tag them and see what happens!
There's no celebrity or world leader that I'm dying to meet. I simply love having lunch with new people. I like to be in company with people who want to help others and people who want to grow. I'm not big on celebrities and famous people. Everyone has their own contribution to the world and I'd love to have lunch with someone new today. I learn as much from the guy or girl at the car wash as from any executive in a suit or a professional in any capacity.
How can our readers follow you online?
Find EXIT Southeast on Facebook, Instagram and YouTube @EXITSoutheast and connect with me on LinkedIn.
Thank you so much for sharing these important insights. We wish you continued success and good health!
About The Interviewer: Maria Angelova, MBA is a disruptor, author, motivational speaker, body-mind expert, Pilates teacher and founder and CEO of Rebellious Intl. As a disruptor, Maria is on a mission to change the face of the wellness industry by shifting the self-care mindset for consumers and providers alike. As a mind-body coach, Maria's superpower is alignment which helps clients create a strong body and a calm mind so they can live a life of freedom, happiness and fulfillment. Prior to founding Rebellious Intl, Maria was a Finance Director and a professional with 17+ years of progressive corporate experience in the Telecommunications, Finance, and Insurance industries. Born in Bulgaria, Maria moved to the United States in 1992. She graduated summa cum laude from both Georgia State University (MBA, Finance) and the University of Georgia (BBA, Finance). Maria's favorite job is being a mom. Maria enjoys learning, coaching, creating authentic connections, working out, Latin dancing, traveling, and spending time with her tribe. To contact Maria, email her at [email protected]. To schedule a free consultation, click here.
---
Kenny Lynn Of EXIT Southeast On How to Go Beyond Your Comfort Zone to Grow Both Personally and… was originally published in Authority Magazine on Medium, where people are continuing the conversation by highlighting and responding to this story.