Andrée Nicole Vernon Of Conqu-her Mountains Moved Inc On How to Go Beyond Your Comfort Zone To Grow Both Personally and Professionally
An Interview with Maria Angelova
Surround yourself around purpose driven people who know more than you, can encourage you and teach you more than you know.
It feels most comfortable to stick with what we are familiar with. But anyone who has achieved great success will tell you that true growth comes from pushing yourself out of your comfort zone. What are some ways that influential people have pushed themselves out of their comfort zone to grow both personally and professionally? As a part of this series, I had the pleasure of interviewing Andrée Vernon.
Andrée Nicole is a Thought Leader and the intersection of Education and Social Justice. She is an Educator, a Business Owner, the Author of five inspiring and motivational books; not including the three most recent novels all three set to be released this Fall of 2023.
Andrée Nicole's most recent title is that of a breast cancer Conqu-her! She's a THRIVER and is most proud of her strength, courage, grace, and optimism during this journey.
Andrêe Nicole is blessed with 10+ years of teaching experience coupled with a BA Honours, B.Ed. from York University and a master's in education specializing in the area of Curriculum Social Justice and Cultural Studies from the University of Toronto and has completed the Principal Qualification program at the University of Toronto, and now embarks upon another journey of the Principal Promotion process within the DDSB. Andrée Nicole has spent the last couple of decades engaging and empowering 'At Promised' youth. She is a Certified Life/ Empowerment Coach Practitioner, Publisher, Visionary, and a community advocate, who ran as a former TDSB Trustee Candidate in the 2018 Municipal Elections. Andrée Nicole received the 2020 Ajax Education award and was also recognized for her educational endeavors by MP and MPP. Andrée Nicole is a speaker who is best known for addressing issues pertaining to the Unspoken Dialogue. Andrée Nicole was also awarded the 2022 Lifetime Achievement Award in education by the Pickering Mayor Dave Ryan.
Andrêe Nicole is the Founder and Executive Director of Andrée Nicole, and Conqu-her Mountains Moved Inc., Breast-ie Conqu-her Foundation Inc. — her charity, Andrée Nicole Inc., The Unspoken Dialogue Projects Inc., which uses media literacy as a platform to empower the youth, while addressing issues that pertain to cyber-bullying, violence, racism and body shaming within the various District School Boards. Her most recent not-for-profit is, His Divine Blueprints Inc.
Thank you so much for doing this with us! Before we start, our readers would love to "get to know you" a bit better. Can you tell us a bit aCan you please give us your favorite "Life Lesson Quote"? Can you share how that was relevant to you in your life?
It is a quote that I created and will be published in one of my Conqu-her book series. It reads as follows:
'You have been assigned this mountain to show others that it can be moved.' The latter quote is most relevant to my life because I have learned not to be afraid of the valleys; for this is where I have dipped between 2 mountains. Where I realized that these dramatic peaks were to show me the things that have fallen off, which in turn allowed me to collect the things in the gorges.
I have learned not to be intimidated by the hills; for being able to climb the many grounds, I too have learned that some of my journeys were gentle, while others were very hard to clamper up…all, however, are necessary, and have shown me how to complete my ascent.
I have learned to embrace and celebrate the Mountain Peak, and enjoyed this place that has allowed me to climb to my greater good, to a higher height of excellence. In doing so, I have been able to surpass my ultimate goals in life.
A second quote is a Chinese Proverb, 'A Journey of a Thousand Miles begins with a single step.' The latter quote is most relevant to my life because sometimes my steps required me to go backwards, forwards, sideways and beyond. However, every step, I have learned, whether it was steps of doubt or fear, became replaced with steps of optimism and faith — knowing that each step has prepared me, and will continue to do so for my greatest journey of greatness — to educate, elevate and empower not only myself; but others.
Is there a particular book, podcast, or film that made a significant impact on you? Can you share a story or explain why it resonated with you so much?
The Bible has made a significant impact on me. It has resonated with me so much because of the teachings and scriptures that are relatable to my life. While I embarked upon a breast cancer journey in 2019 — I came across the scripture Job 10:12; after having a mastectomy, reconstruction surgery, chemotherapy and radiation, this scripture became even more significant — why because 'I was granted life and favour and HIS care has preserved by spirit'.
Let's now shift to the main part of our discussion. Let's start with a basic definition so that all of us are on the same page. What does "getting outside of your comfort zone" mean?
'Getting outside of your comfort zone' is a phrase that society has created that I believe is used to limit one from their true potential. Getting outside of your comfort zone means that I have allowed the possibility for myself to not be the best version of myself. That I allowed this notion to stifle; cripple me with fear — upon the realization that time has been wasted. When I was able to realize, celebrate and embrace that failure is success inside out…well this was a gift in itself!
Can you help articulate a few reasons why it is important to get out of your comfort zone?
When one remains in their comfort zone, they merely exist. However, when one becomes aware of the limitations that they have willingly or unwillingly imposed on themselves; we begin to understand that we were never meant to remain in one zone, but rather to break free from something that was never there to begin with.
Is it possible to grow without leaving your comfort zone? Can you explain what you mean?
I believe that you can grow without leaving your comfort zone; however, at some point in time a person would become stagnant. However, one's growth becomes more powerful when one begins to understand that the power to grow had always been there; perhaps it was just that at that moment in time one was not cognizant of how to equip themselves with the tools, tips, and techniques required for optimal growth.
Can you share some anecdotes from your personal experience? Can you share a story about a time when you stepped out of your comfort zone and how it helped you grow? How does it feel to take those first difficult steps?
There are many, however I will share about the time when I began to feel stagnated as an Educator. I completed both Part one and Part two of the Principals Qualification Course at the University of Toronto and shared this with an Administrator. Their response was well we need to feel your cup then.' And that it has, I created a T.E.A.M Leadership Initiative (an acronym for Teaching Equity and Mathematics Leadership), presented to other educators, within the community and facilitated Lunch, Lead and Learn sessions that would allow educators to have courageous conversations about the ways in which they have been teaching. This initiative allowed them to understand the difference between equality and equity and how they could reach their students who have been marginalized not only based on race, but gender, socio-economic status, and language ability. The latter allowed us to delve deeper into the areas of access, achievement, identity, and the culture of power as it relates to mathematics. When I understood that I was standing in my own way, then realizing that the journey to the T.E.A.M Leadership initiative required me to replace my steps of doubt with steps of optimism — that is when I received a grant to purchase mathematics picture books related to the Ontario Curriculum expectation for students, that educators yearned for professional development moments, and that the community became more aware of the symptoms and signs of mathematical anxiety and getting the tools to overcome them, then I realized that all of the steps were worth it.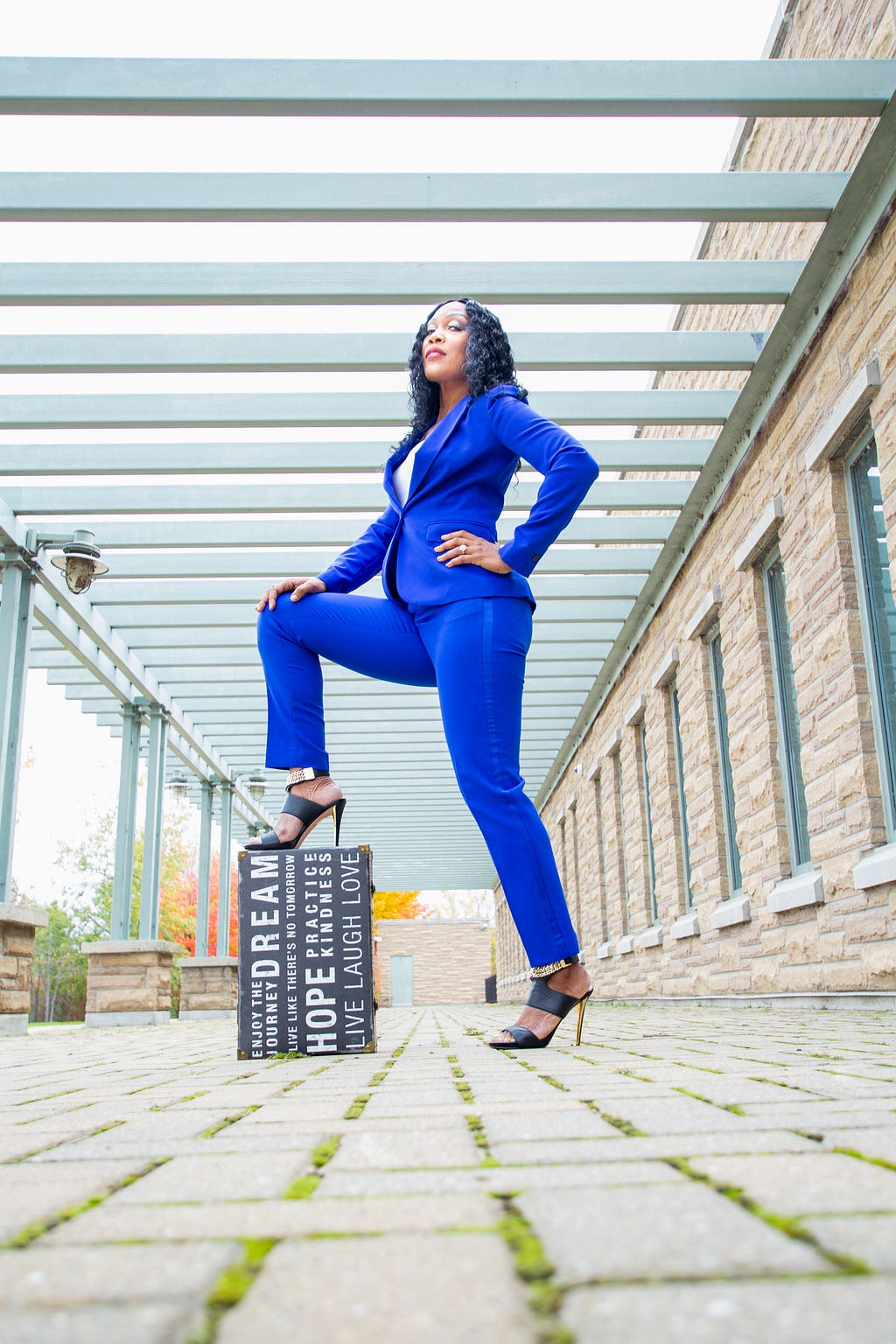 Here is the central question of our discussion. What are your "five ways to push past your comfort zone, to grow both personally and professionally"?
You have been assigned this mountain to show others that it can be moved.
Understand that failure is success turned inside out.
Replace your steps of fear/doubt with steps of faith/optimism.
Replace a fixed mindset with a healthy growth mindset.
Surround yourself around purpose driven people who know more than you, can encourage you and teach you more than you know.
From your experience or perspective, what are some of the common barriers that keep someone from pushing out of their comfort zone?
Self-doubt/sabotage, fear and not believing in themselves, or dreams.
There is a well-known quote attributed to Eleanor Roosevelt that says, "Do something that scares you every day". What exactly does this mean to you? Is there inherent value in doing something that pushes you out of your comfort zone, even if it does not relate to personal or professional growth? For example, if one is uncomfortable about walking alone at night should they purposely push themselves to do it often for the sake of going beyond their comfort zone? Can you please explain what you mean?
The quote 'Do something that scares you every day' means to challenge yourself to do the things that speak to your heart and your purpose. To listen to the voice that screams, YOU GOT THIS, and understand that it may take some time, but the rewards will be greater.
I personally feel stagnated and need to be challenged, as I get bored doing mundane things — I need excitement and cannot stand routine and do normal things! When I do the things that go against the grain it allows me to grow personally and professionally. I begin to see people and opportunities align with my vision, which later confirms to be part of the path/journey to my destined purpose. I believe with anything in life, that moderation is a key focal point to garnering true success — there must be a balance to those steps; that ultimately will manifest into your journey of purpose.
You are a person of great influence. If you could inspire a movement that would bring the most amount of good to the most amount of people, what would that be?
I am a breast cancer Thriver. I would love to share my experience with breast cancer survivors, thrivers and family members and loved ones about my journey who are situated around the world. I would like to see my charity and initiatives inspire these phenomenal brave souls and bring the most amount of good to those who also embarked upon this journey. I would love to share how even amid the storm, there was peace; that I was able to incorporate a business, Conqu-her Mountains Moved Inc., out of that experience.
I wrote three Conqu-her book series titled; Conqu-her Thoughts: I Got This Mountain! Conqu-her Devotional: 12 Mountains Moved, and Conqu-her: Me & My Beast-ie. A Healthy Self-Management Breast Cancer Program: all three set to be released this Fall of 2023.
I would love to have the opportunity to further educate, elevate and empower others with my steps to overcome breast cancer and do more than exist.
I would also love to inspire the males to let them know that their voices also matter, that although they may feel misunderstood, or that their dialogue has become unspoken that my book, Blueprints Just for HIM explores the many issues that many young male adults encounter, think about, act out and speak of amongst themselves and others. I would love for them to know that I have a desire to reach more young male adults with my 29 Blueprint quotes, short poems, and daily affirmations. I want them to know that they are loved, and we see them and hear them louder than ever.
Is there a person in the world whom you would love to have lunch with, and why? Maybe we can tag them and see what happens!
I would like to have lunch with the Duchess of Sussex…Meghan because of her charity work that she does and her eagle eye focus primarily on women's issues and social justice. She has always been one to question and ask questions that have allowed courageous conversations to be amplified by the voices whose voices had been silenced. I would speak to her about issues pertaining to health; specifically, breast cancer for the BIPOC women, what that looks like for females around the globe, as it relates to implementing programs that would allow these survivors and thrivers to know that they are not alone. From what they eat, to exercise, to their thoughts and fears, and what female prisoners who are incarcerated…what kind of help are they getting, not to mention being a fan of SUITS.
I would speak with her about the social injustice within the realm of education and what that looks like for males that have been marginalized on so many levels that hinders their ability to be given a chance to excel. We would discuss everything related to these two items and come up with a plan to further educate, elevate and empower women, couples and the youth. This is why I know at some point in my life, I will meet Meghan.
How can our readers follow you online?
LinkedIn — www.linkedin.com/in/Andreevernon
Facebook — https://www.facebook.com/iamandreenicole
Instagram — https://www.instragram.com/IamAndréeNicole
Twitter — https://Twitter.com/IamandréeNicole
Tiktok — @Iamandreenicole
Thank you so much for sharing these important insights. We wish you continued success and good health!
About The Interviewer: Maria Angelova, MBA is a disruptor, author, motivational speaker, body-mind expert, Pilates teacher and founder and CEO of Rebellious Intl. As a disruptor, Maria is on a mission to change the face of the wellness industry by shifting the self-care mindset for consumers and providers alike. As a mind-body coach, Maria's superpower is alignment which helps clients create a strong body and a calm mind so they can live a life of freedom, happiness and fulfillment. Prior to founding Rebellious Intl, Maria was a Finance Director and a professional with 17+ years of progressive corporate experience in the Telecommunications, Finance, and Insurance industries. Born in Bulgaria, Maria moved to the United States in 1992. She graduated summa cum laude from both Georgia State University (MBA, Finance) and the University of Georgia (BBA, Finance). Maria's favorite job is being a mom. Maria enjoys learning, coaching, creating authentic connections, working out, Latin dancing, traveling, and spending time with her tribe. To contact Maria, email her at [email protected]. To schedule a free consultation, click here.
---
Andrée Nicole Vernon Of Conqu-her Mountains Moved Inc On How to Go Beyond Your Comfort Zone To Grow… was originally published in Authority Magazine on Medium, where people are continuing the conversation by highlighting and responding to this story.