Young Change Makers: Why & How Leisha Toory of Period Priority Project Is Helping To Change Our World
For me, making a difference is using what you have, making the most of your resources to help others in the community. You do not have to be a leader or someone in power, the change maker passion is already within you, you already have the toolkit to advance changes in your community.
We had the pleasure to participate in a question-and-answer session with Leisha Toory, an advocate for period equity. Toory has created the Period Priority Project which thrives to make a difference with each donation so that there is one less person who must worry about accessibility, affordability, and safety of menstrual products. The Period Priority Project relies on donations from the community to fulfill its goal of period equity.
Thank you so much for joining us in this interview series! Before we dig in, our readers would like to get to know you a bit. Can you tell us a bit about how you grew up?
I was born in Mauritius, a beautiful tropical island in the Indian Ocean and I grew up in Dublin, Ireland.
Is there a particular book or organization that made a significant impact on you? Can you share a story or explain why it resonated with you so much?
The Association for New Canadians NL made a significant impact on my volunteering perspective. It was during the pandemic; I had just come to St. John's, and I was missing my family. I read somewhere that the ANC NL were looking for donations for newcomers who will use their services and I immediately felt connected to these newcomers because I know what it felt like to be away from home and that too, in a pandemic where there's just uncertainty and so much anxiety every single moment.
I made kindness cards that I dropped off there and I joined the organization as a volunteer. A year later when I decided to start the Period Priority Project, I sent your over 80 emails to ask for financial help and in-kind donations to kick start the project and the Association for New Canadians NL was one of the only two people who got back to me. They generously gave me a cheque for $1000, so if it were not for their generosity, Period Priority Project would never have existed!
You are currently leading an organization that is helping to make a positive social impact. Can you tell us a little about what you and your organization are trying to create in our world today?
We are trying to amplify the menstrual experience by encouraging open and inclusive discussions on periods through our Period Positivity Podcast.
We are trying to discourage the gendered discourse on menstruation because not all cisgender women menstruate and not all those who menstruate are cisgender women. Trans folks, non-binary individuals, intersex, and Two-Spirit people may also menstruate.
We are trying to identify and explore the causes and solutions of period poverty through research and articles in local and national newspapers.
We are trying to make period products accessible to everyone who needs them through distribution of disposable pads and tampons, reusable period underwear, and menstrual cups.
We are advocating the right to choose, which means that everyone should have the right to choose whatever period products they feel most comfortable using. While sustainable menstrual products are kinder to the planet, they are still not affordable for many. Moreover, the menstrual experience is a vast diaspora, each experience is unique.
Can you tell us the backstory about what originally inspired you to feel passionate about this cause and to do something about it?
I learnt about menstruation when I was a teenager, but it was established earlier in the community that we should not openly talk about periods, and we should feel hesitant to ask questions about this normal biological function. This was something that I did not agree on because I felt that if it is being taught at schools, and if it is a matter of health, people should feel comfortable and confident asking questions to be able to reach out for help, self-advocate and have bodily autonomy.
Fast forward to when I started university, I chose Political Science because I want to make bigger changes and I feel that through policy implementations, that can happen on a big scale. So, I did my research and learnt about period poverty in Canada, such as how people who menstruate will spend around $6000 on period products throughout their lifetime; how 63% of women and girls have regularly or occasionally missed an activity because of their period and their concerns about not being able to access menstrual hygiene products or washrooms; how tampons can cost between $16 to $45 in remote Indigenous communities, which means some youth use socks instead of tampons in Nunavut, while others have to miss school in Saskatchewan.
To top it off, it was during the pandemic, and I felt that the period products I use were too expensive. I tried exploring options of a period supply bank, but we do not have that- so I decided to start one!
Can you share the most interesting story that happened to you since you began leading your company or organization?
I met some of the most empowering and inspiring like-minded people throughout the growth of the Period Priority Project and one of these amazing people is Dr. Deatra Walsh, Director of Advocacy and Communications at Municipalities NL.
She gave me the opportunity to be a panelist for the Municipalities NL's Leadership Summit in Gander last year. I was amidst some of the most powerful women and to have the honor of having a seat in that room and openly talk about menstruation and period poverty will always be one of the most important moments of my life.
Can you tell us a story about a particular individual who was impacted or helped by your cause?
In the first few months of distributing period products, I was also collecting feedback from the recipients of the donations and one of the clients at the Elizabeth Fry Society shared that thanks to this donation, they can now buy school snacks for their children and that made cry because growing up, I have seen my parents making a lot of sacrifices so that I could be where I am today, and it warmed my heart knowing that this project is making a difference.
How do you define "Making A Difference"? Can you explain what you mean or give an example?
For me, making a difference is using what you have, making the most of your resources to help others in the community. You do not have to be a leader or someone in power, the changemaker passion is already within you, you already have the toolkit to advance changes in your community.
An example is the Period Priority Project itself. The community's support, the fact that the people believed in the Period Priority Project, is why we have advanced some period equity across Newfoundland and Labrador.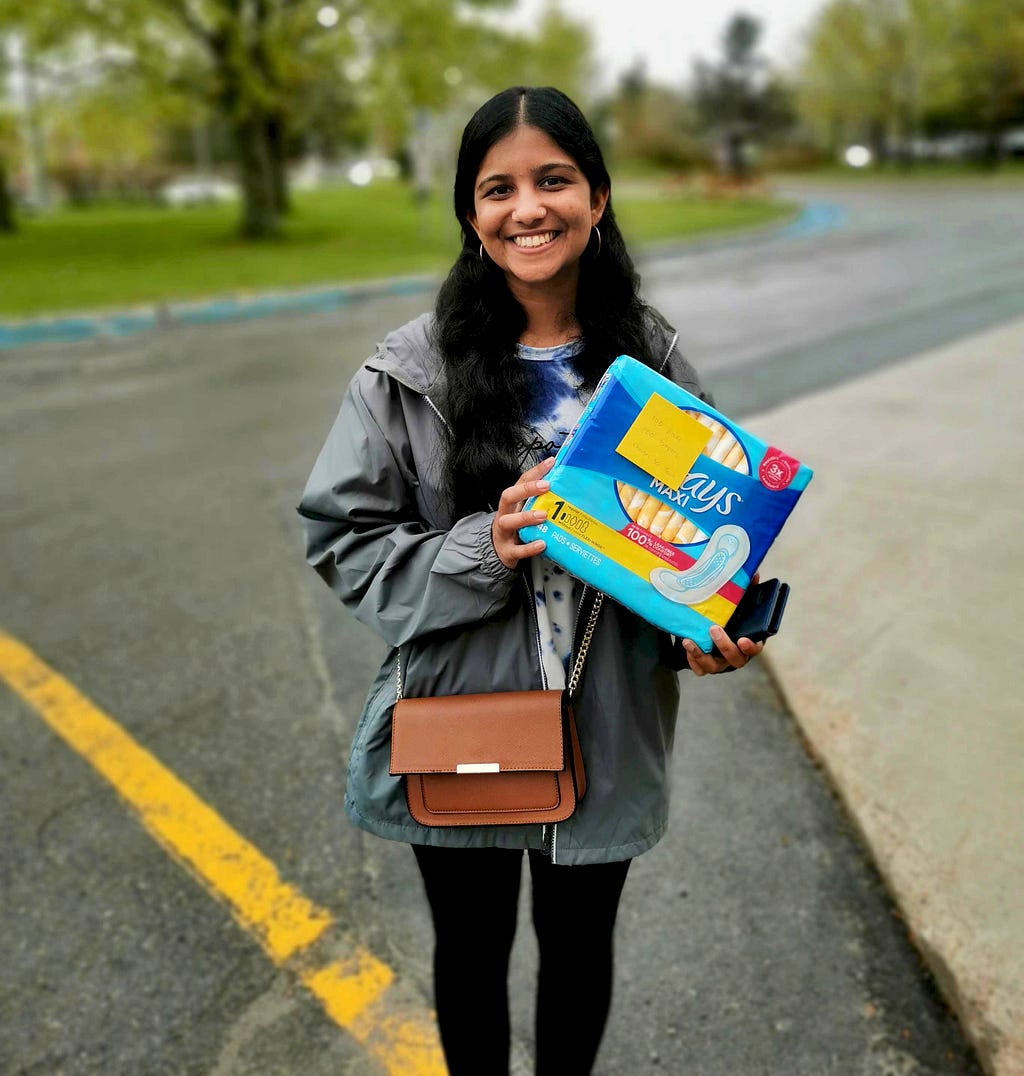 Many young people would not know what steps to take to start to create the change they want to see. But you did. What are some of the steps you took to get your project started? Can you share the top 5 things you need to know to become a changemaker? Please tell us a story or example for each.
1. Choose a cause that you're passionate about because when it's something that resonates with you, then the passion and the inspiration to make a difference is just unique to you. Poverty is a cause that I have been focusing on making a difference in since I was a teenager!
2. Do your research on the cause: what are the statistics; what are political parties doing about it; what are not-for-profits doing about it; what supports do you have in your community; what are the resources that you have at hand. My research on period poverty statistics in Canada has made the goals of the Period Priority Project more tailored to the needs of the community.
3. Do not understand the power of community collaboration. This ensures you build connections and that your idea and advocacy work is getting more support and platforms and reaching more people who need that help you're providing through your project. I have had the opportunity to collaborate with several not-for-profits and organizations and they have all helped me amplify the menstrual experience.
4. It may be slow in the beginning, but you must be your top cheerleader! Do not give up, give it your all and give it time. You must trust the process and you need to believe in your cause, and most importantly in yourself. As I mentioned, only 2 organizations got back to me after I sent out over 80 emails to help me kick start the Period Priority Project. You must believe in yourself!
What are the values that drive your work?
Compassion, inclusiveness, transparency, innovation, and collaboration.
I see a world driven by the power of love, not fear. Where human beings treat each other with humanity. Where compassion, kindness and generosity of spirit are characteristics we teach in schools and strive to embody in all we do. What changes would you like to see in the educational system? Can you explain or give an example?
More educational resources in period shaming and period poverty. It is at this phase in life that schools need to do better at advancing confidence, acceptance, and inclusion.
While we are taught the biology of menstruation, there is little or almost no teachings on the right to choose of period products, the diversity of menstrual experiences, the right to bodily autonomy and self-advocacy.
If you could tell other young people one thing about why they should consider making a positive impact on our environment or society, like you, what would you tell them?
I believe every single young person has the ideas, the creativity and energy to shape a better world because they are full of hope and, through innovation and imagination, are problem solvers and have enormous potential to generate a positive social change in the world.
Is there a person in the world with whom you would like to have a private breakfast or lunch, and why? He or she might just see this, especially if we tag them. 🙂
Jenna Sudds, Parliamentary Secretary to the Minister of Women, Gender Equality, and Youth for Kanata — Carleton. I had a fangirl moment when she followed Period Priority Project on Twitter, so I want to chat about advocacy and empowerment with her!
How can our readers further follow your work online?
https://linktr.ee/periodpriorityproject?fbclid=PAAaYXTE7HLqSCeTgkDXIf63UUHxu_3n1r3aeEfVLWh4PVSDmyRf6AJ8pFTKs
This was very meaningful, thank you so much. We wish you only continued success on your great work!
---
Young Change Makers: Why & How Leisha Toory of Period Priority Project Is Helping To Change Our… was originally published in Authority Magazine on Medium, where people are continuing the conversation by highlighting and responding to this story.