Our students are future leaders, responsible for addressing global issues like climate change and access to resources. Through empathy and connecting students from around the globe, we can expand the boundaries of understanding for the next generation of leaders so that they are prepared to tackle the world's problems together. I hope that by preparing a generation of more empathetic problem-solvers who consider diverse perspectives and experiences and work together with those impacted most by these issues, to create more equitable, sustainable solutions.
In recent years, Big Tech has gotten a bad rep. But of course, many tech companies are doing important work making monumental positive changes to society, health, and the environment. To highlight these, we started a new interview series about "Technology Making An Important Positive Social Impact". We are interviewing leaders of tech companies who are creating or have created a tech product that is helping to make a positive change in people's lives or the environment. As a part of this series, I had the pleasure of interviewing Travis Hardy.
Travis Hardy is the Director of Programs and Partnerships of Empatico, a free social network for educators to better connect classrooms around the world by breaking down barriers while fostering kindness. He is leading the edtech programs to help kids build empathy skills while broadening their worldviews through meaningful interactions with peers across the globe. Since its introduction, the platform has reached more than 100,000 teachers and students from 82 countries.
Thank you so much for joining us in this interview series. Before we dive in, our readers would love to learn a bit more about you. Can you tell us a bit about your childhood backstory and how you grew up?
I grew up in a small town in rural East Tennessee. I come from a family of many educators going back several generations. Having that experience, being surrounded by others who care deeply about others' growth and development, and cultivating a sense of joy in learning, have certainly impacted me personally and professionally. Like many of my family members, I spent several years teaching in the classroom but ultimately ended up on a different path working in the education non-profit space.
Can you share the most interesting story that happened to you since you began your career?
A few years ago, a child in a New York City after-school program earnestly asked me if growing up in Tennessee meant that I never had access to cars and could only commute by horse. I think about this often, the opportunities we must tap into kids' innate, genuine curiosity, but also how much work we have to do to learn about each other's lives, not just globally but even across states and regionally in the US.
None of us are able to achieve success without some help along the way. Is there a particular person who you are grateful towards who helped get you to where you are? Can you share a story about that?
Yes. I studied English Language and Literature at the University of South Carolina and enrolled in a course on Children's Literature in my junior year of college. My professor, Dr. Dianne Johnson-Feelings, not only exposed us to a diverse range of books available to children from authors around the world. She encouraged us to re-examine stories we'd been told or exposed to as children ourselves, and how the stories we do or don't have access can shape our understanding of other locations, cultures, and backgrounds, and may (inadvertently) promote stereotypes or biases among children. I selected Dr. Johnson as my undergraduate thesis advisor and learned so much from her about the importance of promoting multiple narratives and the dangers of a single story. My work with her still shapes my worldview today, and I often think back on that course as I help develop activities and programming to ensure there are opportunities for students to share their authentic stories and discover a variety of perspectives.
Can you please give us your favorite "Life Lesson Quote"? Can you share how that was relevant to you in your life?
From Leslie Jamison's collection of essays, The Empathy Exams: "Empathy isn't just listening, it's asking the questions whose answers need to be listened to. Empathy requires inquiry as much as imagination. Empathy requires knowing you know nothing. Empathy means acknowledging a horizon of context that extends perpetually beyond what you can see."
I love this quote for two reasons. One, it stresses the importance of cultural humility, or the acknowledgment that we may never truly understand or learn everything there is to know about someone else's background and experiences. And two, we shouldn't be passive or give up on connecting across our differences; empathy requires us to be intentional and humble in seeking out new perspectives, and information and understanding others' experiences with the world.
You are a successful business leader. Which three character traits do you think were most instrumental to your success? Can you please share a story or example for each?
1. Empathy: I try to embody empathy with everyone that I meet. I think it's been such an important skill to develop over my career by working with people from a variety of backgrounds and countries.
2. Positivity: I'm naturally lighthearted and optimistic. It's always been important to me to take the time to celebrate accomplishments and my colleagues' successes, create opportunities to bring joy into the day-to-day, and stay connected to the hope of the better world that we seek through our mission and work. This has all felt even more important these last few years with the immense challenges our world is facing.
3. Humility: It's important to be curious and promote open-mindedness to spark connections and new ideas. We all have so many opportunities to discover something new, recognize there are many ways of viewing the world, and continue to evolve as we encounter new people and perspectives.
Ok super. Let's now shift to the main part of our discussion about the tech tools that you are helping to create that can make a positive social impact on our society. To begin, what problems are you aiming to solve?
We live in a world where systemic segregation, marginalization, and inequality limit opportunities for people to build meaningful relationships across race, ethnicity, class, geographic location, political affiliation, religion, and other differences. Division in society is intensifying and animosity across differences is increasing. However, polarization developmental science research can guide us to disrupt these destructive forces.
Positive experiences with diverse peers early in life can strongly influence how a child perceives people from other ethnicities, races, and nationalities. And while children ages 5–14 are most curious about and inclined to have positive perceptions of difference, they lack the opportunity to meet different types of people, hear others' and share their stories, and learn about other cultures. Technology can help break through these silos and provide opportunities for millions of children.
How do you think your technology can address this?
Virtual exchange is an incredible digital tool to connect young people from different backgrounds across locations and cultures, without needing the resources to travel and leave their communities. Educational virtual exchange programs like Empatico's can reduce children's negative attitudes toward others who are different, build their knowledge about other sociocultural groups, and promote willingness to learn about and respect other cultures.
The platform enables students to explore their identities and collaborate with others across geographic borders, along with political, socioeconomic, sociocultural, and racial/ethnic differences through live video exchanges and a library of activities. The newly enhanced platform allows educators to curate their community and features an expanded library of teacher-tested content and curriculum along with a portfolio of more than 90 social and emotional learning (SEL) activities for in-class learning experiences.
We continue to gain positive testimonials from teachers, such as, "It truly connects classrooms and my students have become more empathetic of others' feelings. We have a newfound perspective on how we view kindness and the world around us."
Can you tell us the backstory about what inspired you to originally feel passionate about this cause?
My career has been focused on giving kids unique and extraordinary opportunities that they would not have otherwise. I think about my own experiences growing up gay in a context where there was fear and homophobia, but then I was fortunate to have positive experiences through educational opportunities, including international travel to places like France and Ghana, and attending a large state school. This is what drove my desire to have a career supporting others, building community, and experiencing other cultures and perspectives. I'm inspired by my organization's work to provide children the ability to learn from one another so that they can embrace one another's differences.
How do you think this might change the world?
Our students are future leaders, responsible for addressing global issues like climate change and access to resources. Through empathy and connecting students from around the globe, we can expand the boundaries of understanding for the next generation of leaders so that they are prepared to tackle the world's problems together. I hope that by preparing a generation of more empathetic problem-solvers who consider diverse perspectives and experiences and work together with those impacted most by these issues, to create more equitable, sustainable solutions.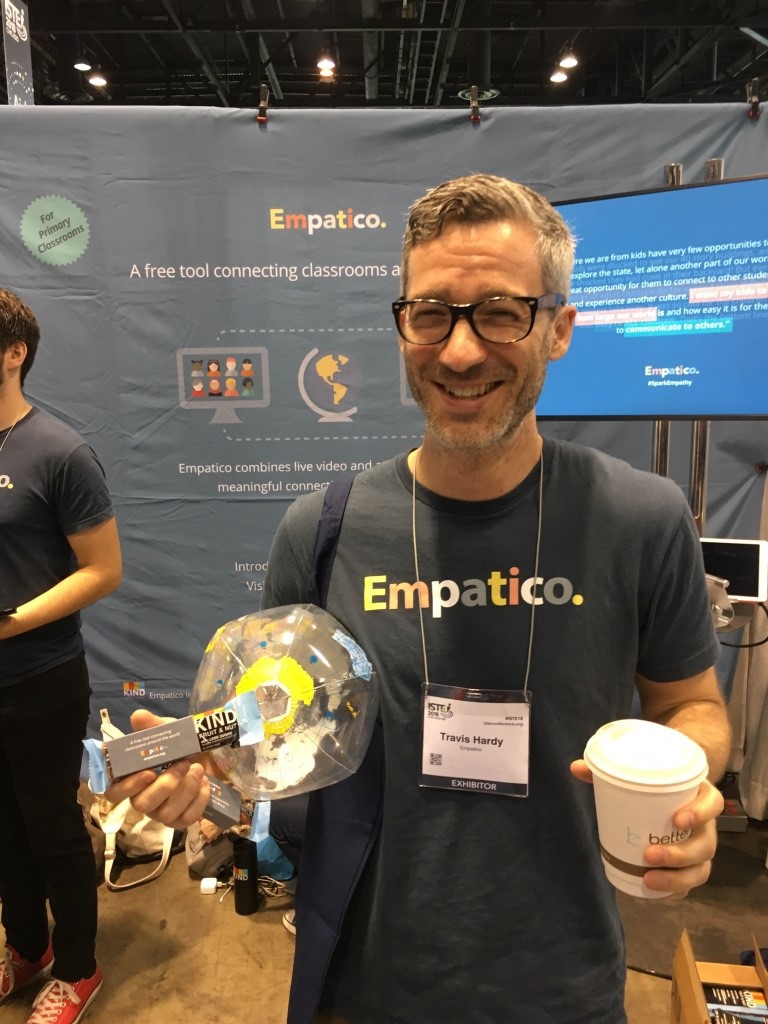 Here is the main question for our discussion. Based on your experience and success, can you please share "Five things you need to know to successfully create technology that can make a positive social impact"? (Please share a story or an example, for each.)
Exercising empathy is a critical part of the technology creation process. Spending time understanding our users' needs is not only the first step in the design thinking process but something we come back to again and again. For example, our organization spends countless hours interacting with educators in our community through interviews and focus groups, and sitting in on their classrooms' virtual exchanges, to better understand the challenges they're facing in the classroom and how our technology can be best used and evolve to meet their needs.
Collaborating with others leads to more creative solutions. It's important to integrate diverse perspectives into everything you create. For example, collaborate across departments (from engineering and curriculum design to business development and marketing) and with partner organizations, and subject matter experts.
Be intentional about the impact you want to make in the world. Every detail could have the opportunity to drive the impact you're hoping to make. It's important to include diverse opinions and backgrounds as you're developing new features to try to uncover any blind spots that could lead to unintended negative consequences (see above about empathy and collaboration!). For example, at my organization, we work with partners, consultants, and educators as we're developing and testing new features to ensure our product is thoughtful, accessible, and leads to impactful outcomes for teachers and children.
Cultivate an ambassadors community by reaching out to your active users to learn from them and help deepen and expand your impact. Our community of more than 80 ambassadors from all around the world helps us test new content and product features, share feedback, help create educational resources, mobilize other educators in their communities, and elevate stories of impact.
Have fun! Developing impactful technology can be hard work, and it's important to celebrate your wins and practice gratitude with those who've helped you along the way. A joyful work environment also leads to better decision-making and helps everyone best utilize their unique skills and talents.
If you could tell young people one thing about why they should consider making a positive impact on our environment or society, like you, what would you tell them?
Young people today will (and already do!) have an important role to play in solving some of the world's most complex issues, such as climate change, environmental sustainability, and structural inequities. The social-emotional skills that youth practice and develop now can prepare them to be the next generation of empathetic problem solvers. Our world desperately needs problem solvers who seek to understand problems from different points of view, problem solvers who not only consider how a problem affects them, but who also reflect on how their background and experiences might limit or bias their understanding of certain issues. Today's youth can leverage the skills they're building now to address challenges in their communities and beyond in inclusive and compassionate ways that lead to better, and more equitable solutions and outcomes for everyone.
Is there a person in the world, or in the US with whom you would like to have a private breakfast or lunch, and why? He or she might just see this, especially if we tag them. 🙂
Dolly Parton. I'm a Tennessee kid and grew up with Dolly. I think she's the ultimate leader and role model. Dolly's Imagination Library is an inspiration — she started with a goal grounded in her roots, to give kids in Sevier County, Tennessee free, high-quality books regardless of their family's income. As with everything she does, the program was wildly successful, and she's been able to expand it not just in the US but globally. I would love to learn how she stays true to herself while having massive international success, managing to do it all with kindness, grace, and humility.
How can our readers further follow your work online?
I can be found on LinkedIn and suggest following Empatico on Twitter, Instagram, Facebook, and TikTok under the handle @EmpaticoOrg!
Thank you so much for joining us. This was very inspirational, and we wish you continued success in your important work.
---
Social Impact Tech: Travis Hardy On How Their Technology Will Make An Important Positive Impact was originally published in Authority Magazine on Medium, where people are continuing the conversation by highlighting and responding to this story.