Social Impact Investors: How Alberto Yépez of Forgepoint Capital Is Helping To Protect The Digital Future
Show it is possible. Be the role model you wanted to see when you were coming up. Demonstrate it is possible and showcase the talent on your teams. Spend time with others in the right forums to encourage and activate their participation.
As a part of our series about "Social Impact Investors", I had the pleasure of interviewing Alberto Yépez of Forgepoint Capital.
Alberto is a Co-Founder and Managing Director at Forgepoint. He is a serial entrepreneur with a proven track record of building global businesses and leading them to successful exits.
Prior to Forgepoint, Alberto worked at Trident Capital alongside both Don and Will. Prior to Trident, Alberto was Founder, Chairman and CEO of enCommerce (acq. Entrust), Co-CEO and President of Entrust (acq. Thoma Bravo), and Chairman and CEO of Thor Technologies (acq. Oracle). Alberto has also worked as an Entrepreneur in Residence at Warburg Pincus, a venture consultant at Bain Capital and was a consultant to the U.S. Department of Defense as part of the DeVenCI Initiative. Earlier in his career, Alberto held various senior management roles at Apple and Oracle.
Alberto serves as the Chairman Emeritus of the Hispanic IT Executive Council (HITEC). He was previously on the Board of the National Venture Capital Association (NVCA) and the Board of Trustees of the University of San Francisco.
Alberto holds a BS from the University of San Francisco. He also attended the Kellogg School of Management at Northwestern University and the Universidad Nacional de Ingenieria in Lima, Perú. When not in the office, Alberto enjoys traveling to other countries to learn about their art, culture, and cuisine. His favorite cuisine is Japanese-Peruvian fusion.
Thank you so much for doing this with us! Before we dive in, our readers would love to learn a bit more about you. Can you tell us a story about what brought you to this specific career path?
I was born in Peru and graduated from a Cristo Rey Jesuit high school. After attending Lima's Universidad Nacional de Ingeniería where I studied electronic engineering, Jesuit missionaries provided me the opportunity to study at the University of San Francisco (USF) with a Presidential Scholarship, given my academic achievements at Cristo Rey. At USF, I studied electronic physics, computer science, and computer engineering.
Jesuit Education has had a big influence in my life and my career. With rigorous academic training, they strive to form men and women for the service of others with an emphasis of giving back to one's community as an educated person and humanity's purpose in the world..
This experience instilled a personal mantra to serve community — to pursue a mission-driven career and change the world for the better. To this day, my wife Teresa (whom I met at USF) and I remain steadfast supporters of USF and Cristo Rey schools, having served on the Board of Trustees for 15 years and as donors and advisors.
Through on-campus recruiting at USF, I was fortunate to land a role at Apple where I spent ten years working in the company's internal IT, product management, business development and international market expansion. Because of my work and at the recommendation of my managers and mentors, Apple's leadership team sponsored me to attend the Executive Program at Northwestern University's Kellogg School of Management.
Though 1986–1995 was an incredible time to work at Apple, I knew I was an entrepreneur at heart and Teresa — my life partner and soon business partner — felt the same. Amid the mid-90's downturn, after Teresa served as one of the first data architects for the data warehouse initiatives at both Apple and Cisco, we decided to cofound our own company, enCommerce. We saw a clear market need: everyone wanted to use the Internet for business but there was no security to support them. We started enCommerce to build custom security solutions for regional businesses and ended up defining a new category of product that was in the identity and Access Management (I&AM) space — essentially the first SSO platform providing web single sign-on, authentication and authorization. We bootstrapped enCommerce for two years and built a fifty-person consulting team before creating a software product, raising three rounds of VC funding (totaling approximately $72M) and nearly taking the company public before it was acquired for ~$1B by a public company at the time — Entrust (NASDAQ: ENTU. We accomplished what many VCS said wasn't possible, transitioning enCommerce from a bootstrapped services business into a commercial software product business, then achieved a major exit to one of the first public companies in the security space — all right before the bubble.
I stayed on with Entrust as a Board Member and co-CEO for about a year, then left to focus on the cybersecurity space within the private equity and venture capital markets. After exploring opportunities for consolidation in the security market with Warburg Pincus, I was recruited by Bain Capital to serve as executive chairman and eventually CEO of Thor Technologies. Shortly thereafter, Trident Capital led the second round of investment in Thor, building a leading player in identity management. After Oracle acquired Thor at the end of 2005, I helped establish Oracle as the global leader in I&AM as a senior advisor to the President of Oracle products, driving global market and business development initiative as well as M&A. In 2008, I joined Trident Capital in 2008 as a venture partner and Entrepreneur-in-Residence), and later (2010) rose to Managing Director leading their cybersecurity investments. In 2015, after a successful run investing in cybersecurity companies (e.g. Qualys, AlienVault) with Don Dixon (Trident co-founder), we decided to cofound Forgepoint Capital, one of the first dedicated venture funds exclusively invests in cybersecurity. Seven (7) years later we have $1B of AUM, with the largest portfolio of active cybersecurity companies (37) and the most experienced and diverse teams investing in cybersecurity. We are a minority and veteran owned venture fund, leading diversity and inclusion in our industry.
Can you share a story with us about the most humorous mistake you made when you were first starting? What lesson or take-away did you learn from that?
When I started at Apple, like any new engineer I wanted to live in my cube and work on my projects — to excel at what needed to be done and become known for my work. But my mentor stopped me and said "No, you must go have lunch and meet with people every day. You must network. You must get to know people across Apple, starting with your internal customers and stakeholders. It will help in ways you can't even imagine."
It's funny to think back to how adamant I was. I was so stubborn and focused on delivering results. Thanks to my mentor, I found a balance early on and was able to work well while building a meaningful network of trusted relationhips at the same time.
Are you able to identify a "tipping point" in your career when you started to see success? Did you start doing anything different? Are there takeaways or lessons that others can learn from that?
Turns out the relationships I built by going out to lunch got me my next three promotions. I was able to become a manager early on and get noticed for more than just producing quality work. Soon, I was asked to handle projects across Europe, Japan and Latin America, driving strategic relationships with major technology vendors and channel partners.
Debi Coleman (RIP) — who was part of the original Macintosh team as Controller before rising to VP of Worldwide Operations, CFO and later VP of information Systems and Technology — identified me as a high potential employee at Apple. The company sponsored my tuition and covered all expenses so that I could attend Kellogg while providing executive coaching to develop my career as a future executive.
These tipping points drove home the value of seeking mentors and sponsors, and heeding their advice.
None of us are able to achieve success without some help along the way. Is there a particular person or mentor to whom you are grateful who helped get you to where you are? Can you share a story about that?
In addition to Debi Coleman, the first person who comes to mind is Pete Solvik (Former Cisco CIO, Apple Online Services Group Leader) — my first manager at Apple, my first customer at enCommerce, and, as Founding Managing Partner of Jackson Square Ventures, my first mentor upon entering VC.
My Forgepoint co-founder Don Dixon has also helped me understand the business of VC and the innerworkings of being a successful investor, complementing my entrepreneurship and operating skills and experience.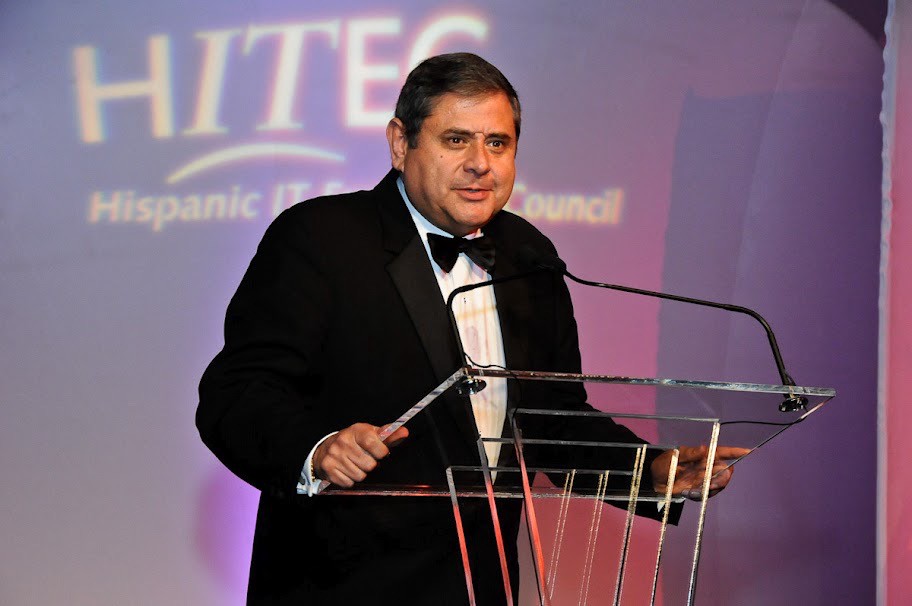 You have been blessed with great success in a career path that many have attempted, but eventually gave up on. Do you have any words of advice for others who may want to embark on this career path but are afraid of the prospect of failure?
The harder you work, the luckier you become. You create your own opportunities. At the same time, you need to give before you get. Build a supportive community around yourself. People will see your intentions are genuine.
Throughout my career I have been a champion of diversity initiatives with organizations to help under-presented groups enter the technology and innovations workforce: INROADS, SHPE, NSHMBA and later as the Chairman of the HITEC for 13 years, member of the NVCA Board as a member of their Diversity Taskforce (as the token Latino)… by breaking barriers and building futures while building the next generation technology leaders that happen to be diverse.
You also don't have to be a certain profile or come from an elite background to succeed — I do not have an ivy-league pedigree… yet I have had many of them work for me though…!
Your career is your responsibility… it is not your managers or the company you worked for (responsibility) — they are catalysts that will help you find your passion and area that you most likely will succeed.
Let's now jump to the main part of our discussion. The United States is currently facing a very important self-reckoning about race, diversity, equality and inclusion. This is of course a huge topic. But briefly, can you share a few things that need to be done on a broader societal level to expand VC opportunities for women, minorities, and people of color?
Create awareness and exposure. Make it a point to drive your own initiatives. Here at Forgepoint, we are intentional about recruiting and hiring qualified and diverse underrepresented minorities (URM) and veteran candidates through Summer Internship and Venture Fellow programs that lead to full-time opportunities. At Forgepoint, today we have the most experienced and diverse team of company builders investing in cybersecurity
Build a pipeline while supporting diversity initiatives — like the Toigo Foundation, AllRaise, NASP, NVCA Venture Forward and Diversity Taskforce (All US State Diverse Emerging Manager Programs).
Show it is possible. Be the role model you wanted to see when you were coming up. Demonstrate it is possible and showcase the talent on your teams. Spend time with others in the right forums to encourage and activate their participation.
You are a VC who is focused on investments that are making a positive social impact. Can you share with us a bit about the projects and companies you have focused on, and look to focus on in the future?
Our mission is to protect the digital future. We believe greater cybersecurity will enable economic prosperity, product individual right to privacy, and further improve the ways we live and do business. We believe security is fundamental to innovation and in fact accelerates it, while protecting our critical infrastructure.
In terms of example projects and areas of focus, we're transforming cyber risk management and insurance, to underwrite cyber insurance more effectively and profitably while helping organizations with incident response and resilience to fortify their organizations
We're also looking at security by design and the software supply chain: end to end software assurance and developer tools and education to accelerate innovation and improve end user experience.
Security for all — enterprise to SMB. What's good enough for a bank should also be easy to consume, deploy, and administer, at an accessible cost for SMBs.
What you are doing is not very common. Was there an "Aha Moment" that made you decide that you were going to focus on social impact investing? Can you share the story with us?
Don and I saw that cybersecurity was going to become a critical component for the transformation of business. That's why in 2015 we decided to spin out Forgepoint Capital, an early-stage venture capital firm dedicated to cybersecurity.
While investors at Trident — which covered cleantech, tech-enabled services, and other areas of enterprise tech, we saw an opportunity to build a sector-focused firm. We shared a passion for building companies that provided core enabling technology for businesses to transform digitally, while protecting critical infrastructure and individual privacy.
Afterall, we believe that greater cybersecurity will enable economic prosperity.
Can you share a story with us about your most successful Angel or VC investment? Or an investment that you are most proud of? What was its lesson?
AlienVault. We brought in a bootstrapped team from Spain that was using opensource software and building a SIEM solution. After relocated them to the US and augmenting the team with Silicon Valley engineering capabilities and sales / GTM velocity out of SolarWinds, we helped them raise $100M from top VCs including Kleiner Perkins, GGV, and IVP, then scale until AlienVault was acquired by AT&T. AlienVault became the foundation of AT&T Security Managed Services and still is to date.
What makes me most proud of AlienVault is not just being one of the earliest investors and helping the team achieve these milestones which admittedly sound good on paper. It's that we had to bridge such diverse cultural mindsets and conquer related challenges along the way. It wasn't always easy: I had to become Chairman of the Board to create unity and at times serve as the arbiter working with such highly motivated and talented teams across geographies.
It took seven years for the team to as they say "form, storm, norm, and eventually perform" so they could scale the company to a successful exit. In venture, everyone talks about having a strong team and culture — AlienVault succeeded because in the end we found a common vision, shared values, and developed a unified sense of purpose.
Can you share a story of an Angel or VC funding failure of yours? What was its lesson?
With Bayshore Networks, we were simply too early and suffered from bad market timing. Bayshore had this amazing solution to protect legacy IoT networks. However, we invested too early and didn't realize how difficult it would be to bring the product to market especially when COVID hit. Soon it was impossible to send physical appliances to critical infrastructure sites because everything was shut down. After trying whatever we could with the management team, Bayshore was thankfully acquired by OPSWAT.
Here is the main question of this interview. What are your "5 things I need to see before making a VC investment" and why? Please share a story or example for each.
All our companies meet the following criteria and are vetted through extensive diligence with key customers and partners, including our Advisory Council of industry leaders across sectors.
Market: large market opportunity with limited or no competition (big gap)
IP: differentiated intellectual property and product truth that is hard to replicate
Go To Market: ability to scale rapidly and sustainably with ecosystem partners, and go global
Team: serial entrepreneurs preferred, with prior experience building venture-backed companies
Syndicate: ability to support the company through multiple rounds of investment, through ups and downs (varying market conditions)
Finally, we always invest with the exit in mind. In cybersecurity, most companies get acquired though some go public. Market consolidation is common.
If you could inspire a movement that would bring the most amount of good to the most amount of people, what would that be? You never know what your idea can trigger.
Great question. Could I inspire two movements?
Activate the human firewall. Cybersecurity is everyone's responsibility, not just IT. Most breaches come from human error — through phishing, spam dialers, etc. These can be avoided through training and education.
Activate young, diverse talent including veterans to join our industry. There is a huge shortage of qualified professionals and a lot of training available for anyone to join the cybersecurity industry and have a successful, meaningful career.
If you could tell other young people one thing about why they should consider making a positive impact on our environment or society, like you, what would you tell them?
Because making a positive impact on society and our environment matters. It is our shared responsibility, and no one else is going to do it for you.
We are very blessed that a lot of amazing founders and social impact organizations read this column. Is there a person in the world with whom you'd like to have a private breakfast or lunch with, and why?
Steve Jobs — in addition to his incredible career and come back with Apple, how he inspired and changed our industry along with his battle with cancer will forever make him an inspiration to me. He was a visionary, leader and disruptor of the status quo. His vision was to change the world one individual at the time by empowering individuals with user centered design of easy-to-use products.
How can our readers follow you online?
Bio: https://forgepointcap.com/team/alberto-yepez/
LinkedIn: https://www.linkedin.com/in/albertoyepez/
Twitter: https://twitter.com/alyepez
I am also a member of the Forbes Technology Council.
Readers can also sign up for Forgepoint's monthly newsletter: https://forgepointcap.com/news/
Thank you so much for this. This was very inspirational, and we wish you only continued success!
---
Social Impact Investors: How Alberto Yépez of Forgepoint Capital Is Helping To Protect The Digital… was originally published in Authority Magazine on Medium, where people are continuing the conversation by highlighting and responding to this story.