Quiet Committing: Carin Hunt Of Celebration Pros On The Five Commitments High Impact Leaders Make & Keep To Themselves Daily
An interview with Karen Mangia
Personal and Professional Growth — this could come in many forms such as a webinar, audio book, podcast, or enlightening conversation with a like-minded leader.
Quiet quitting is the emerging phenomenon of employee disengagement, essentially quitting on the job. What strategies do high-impact leaders deploy to motivate themselves and those around them to move from quiet quitting to quiet committing? Because, at its core, there is no change without commitment. Commitment to change ideas. Change beliefs. Change perspectives. Change routines, rituals and boundaries. Organizations change one commitment at a time. One leader at a time. As part of our series about "Quiet Committing: The Top Five Commitments High Impact Leaders Make & Keep To Themselves Daily", we had the pleasure of interviewing Carin Hunt.
Carin Hunt brings over 14 years of experience in luxury hospitality and event management to empower creative entrepreneurs, helping them find confidence in their business through proven strategies and powerful connections. After formerly building her 6-figure destination wedding planning business, Carin found her passion in supporting the success of her peers. On any day you'll find Carin cheering on her 'celebration pros' or enjoying the island life with her family in the Florida Keys.
Thank you for making time for our visit. What was the first job you had, and how did that job shape the leader you are today?
Oh goodness, we're bringing it way back! My first job ever — I must have been 16 — was as a hostess at one of the nicer restaurants in my town. There was a lot I loved about the job, especially the people. My coworkers were all very close, and we are still in contact today (a lesson in itself). Living in the Florida Keys, most of the customers were vacationing and in good spirts. Very fond memories.
I do remember a specific incident that I've carried with me. On a night when the restaurant was extraordinarily busy, the owner loudly scorned me in front of a long line of guests waiting to be seated. He was furious, and although I can't remember why, I knew in that moment that I would never be the kind of superior that spoke down to one's employees or colleagues in such an embarrassing and demeaning manner.
We're talking about quiet quitting in this series. What's the greatest lesson you've learned from a job you decided to quit?
I recently parted ways from a luxury resort as their Wedding Specialist and Sales Manager. I adored my Director. We had much in common, and I learned a great deal from her years of experience. Quitting isn't always about lack of leadership in a company. In fact, I quit in large part because I was inspired by my leader.
During my time at the resort, we held a weekly sales huddle where I was encouraged to share an inspiring quote and a complimentary action that my colleagues could take towards their own growth. To be quite honest, I was nervous at first to take the spotlight momentarily off of my Director to pour into others. She taught me that confident leaders are not afraid to take a step back and let their team members share their voice and talents. She empowered me to lift our team up, and now I teach the same to others.
The bonus here is this approach discourages "quiet quitting" within the establishment.
Employee Engagement is top of mind for most organizations. How do you define an engaged employee?
When you have someone on your team who is excited about progress, brainstorms solutions, and actively communicates — you've found yourself and Engaged Employee. Someone with these traits is not only a self-starter, they are willing to see the big picture and find viable ways to move the company or department forward.
My father has said many times, "if you aren't a part of the solution, you are part of the problem." Find yourself a team who is a part of the solution and you'll find success.
Say more about your Employee Engagement portfolio. What's working? What's not working? And what are you piloting now to address the Quiet Committing trend?
Quiet Quitting and Committing can arise for a small business owner as much as it can for large-scale companies. Anyone, at any stage, for various reasons can decide to slowly bow out of their career. I was guilty of this myself as an entrepreneur; when the pandemic arose and I had my first child, my priorities changed, and my business was not going to flex.
This was a pivotal point in my growth as a leader. I knew in my next career choice I would do things differently. For one, I spoke up. I was very clear when I was hired on my availability and commitment to the job. Throughout my time as a Wedding Specialist, I was outspoken on what was working and not working, offering ways to improve our systems. In turn, I was met with understanding and support — even once being told to run my desk "like it was my own business". Not something you typically hear from the corporate ladder!
Now as a business coach, I'm often teaching clients to encourage Employee Engagement; to be clear and have open communication with their team. Write out the job descriptions in details so the expectations are well understood. Ask those same questions: what is working and what is not? It produces powerful feedback. And to keep an open-door policy; be supportive and cognizant of employee's personal aspirations. Leverage this information, and your team will feel heard, and as a result, empowered to engage.
As goes the leadership, so goes the team. How do you hold leaders accountable for their own level of engagement?
It's been said many times: consistency is key. It builds trust and loyalty. I've been in many roles where my superior was highly engaged, and we followed suit. Then slowly, over time, important meetings would be delayed, overall progress would slow, the team's values were no longer being met. Even their schedule would become sporadic. I bet you can guess when I decided to move on.
When a leader chooses to show up consistently with a mindset of positivity and productivity, their team will be more apt to adopt that same energy.
The first phase of the pandemic ushered in the phenomenon called The Great Resignation, where employees left organizations to pursue greater meaning and purpose. Then came The Great Reshuffle, where employees left organizations to pursue promotions, pay and perks. Now we've entered a third phase, Quiet Quitting, where employees are deeply disengaged. What do you believe to be the key drivers of Quiet Quitting?
We are in a time of possibilities! It's exciting! Almost suddenly, we're seeing the long-term value of investment in lieu of the traditional "steady job with benefits". I think people are ready for a change, to shake things up and take a risk.
In a world where we are so digitally immersed, the inspiration for how you can design your life is limitless.
Companies will need to start engaging more on this level and even restructuring their benefits to keep the attention of their employees.
What do you predict will be the next phase in the evolution of the employer / employee landscape?
I would think the relationship between the two will need to be just that — relational. Each position within a company will be labelled significant and met with equal respect. This is with the understanding that the company would not be able to function in a progressive manner otherwise. The added value is that this mentality will nurture future leaders within the establishment.
It is necessary to mention that with remote working conditions being more popular, and AI on the rise (whatever it may bring), it will be more important and more difficult than ever for companies to achieve this type of bond with their employees. Could this mean a revamp on the job description for HR? Likely.
What leadership behaviors need to evolve to improve employee engagement in a sustainable way?
While consistency is key, growth is just as important. Personal and professional development will always be necessary. The only thing we can count on is change, so the professional traits of resilience, flexibility, creativity, and reliability are held with more weight.
Like the latest social media trends, Leaders will need to keep up with the ever-changing desires of the employee. And yes, this goes against the traditional thought of authority, though I feel this way of "meeting them where they are at" will follow with much respect to the employer form the employees.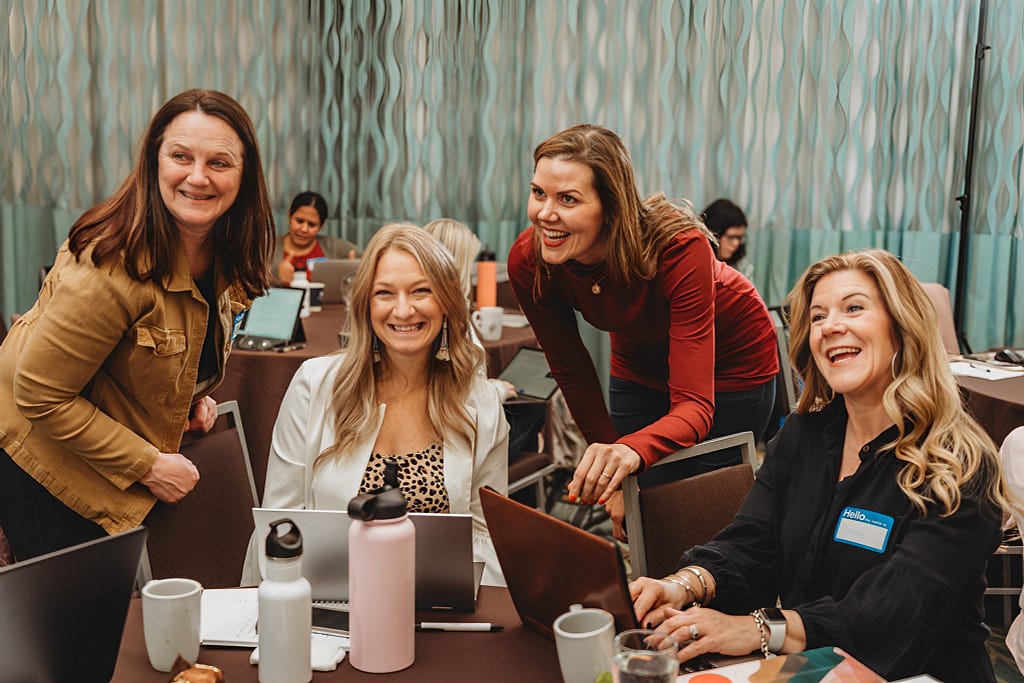 Change requires commitment and happens one choice at a time. What are the top five commitments you make and keep to yourself daily that have a material impact on those you lead?
Self-integrity is a trait that others admire and are often inspired to follow.
1 . Early to Rise — I wake up around 5:00am (before my house wakes up) to move and feed my body for success.
2 . Personal and Professional Growth — this could come in many forms such as a webinar, audio book, podcast, or enlightening conversation with a like-minded leader.
3 . Plan for Success — in addition to my Google calendar, you can find my paperback planner by my side always. I choose 3 priorities daily that creates growth in my business or life.
4 . Family First — keeping my eye on the vision for my family keeps me grounded in my values. It also ensures that I don't burnout in my work. This practice has pulled me through many hard times in both the corporate and entrepreneurial settings.
5 . Be Gracious– I share value with or offer assistance to those around me every day, whenever I find the opportunity. Aspire for greatness, and in turn uses that power to impact others — that is when the leader finds fulfillment, as well the respect and admiration of others.
What's the most effective strategy you've discovered to get back on track when you break a commitment you've made?
Acknowledge it with honesty, follow it up with a solution. I believe there is a lesson in everything, and the lessons we learn as leaders should be shared with our teams to encourage their growth as well. It's the reason I decided to become a business coach.
Additionally, this digital world makes the human connection that much more valuable — so when a leader shows humility to their employees, it will often be met with more respect and relatability.
Thank you for sharing these important insights. How can our readers further follow your work?
I am so grateful to be a part of this topic!
Readers can listen in to the Celebration Pro Podcast, follow on instagram @celebrationpros, or review my website www.carinhunt.com.
I also host quarterly live panels with top wedding industry leaders, sharing their insight on staying relevant in an ever-evolving industry.
Thank you for giving us the opportunity to experience a leadership master at work. We wish you continued success and good health!
About The Interviewer: Karen Mangia is one of the most sought-after keynote speakers in the world, sharing her thought leadership with over 10,000 organizations during the course of her career. As Vice President of Customer and Market Insights at Salesforce, she helps individuals and organizations define, design and deliver the future. Discover her proven strategies to access your own success in her fourth book Success from Anywhere and by connecting with her on LinkedIn and Twitter.
---
Quiet Committing: Carin Hunt Of Celebration Pros On The Five Commitments High Impact Leaders Make &… was originally published in Authority Magazine on Medium, where people are continuing the conversation by highlighting and responding to this story.