Laura Casselman of JVZoo.com and VidaStreet On How Simplifying & Decluttering Your Life Can Make You Happier
An Interview With Drew Gerber
Subscriptions — We live in a time where people have endless subscriptions to things they rarely, if ever, use. A fun tip for canceling subscriptions is to take the money you would have spent on the yearly subscription and place it into a fun account. This money can be used to pay for a vacation or to purchase experiences which are more likely to give you a far greater return on your investment in the satisfaction department.
We live in a time of great excess. We have access to fast fashion, fast food, and fast everything. But studies show that all of our "stuff" is not making us any happier. How can we simplify and focus on what's important? How can we let go of all the clutter and excess and find true happiness? In this interview series, we are talking to coaches, mental health experts, and authors who share insights, stories, and personal anecdotes about "How Simplifying and Decluttering Your Life Can Make Us Happier." As a part of this series, I had the distinct pleasure of interviewing Laura Casselman.
As the CEO of JVZoo.com, co-founder of VidaStreet and with a quadruple listing on Inc. 5000's list of America's Fastest Growing Companies — Laura Casselman has become a champion for equal rights and opportunity. Running multiple companies and chasing after her toddler, Laura prioritizes simplification. When her new book, Trust Your Increments hits the bookshelves on March 7th 2023, she aims to show the next generation of business leaders how to get what they want, without losing their soul.
Thank you so much for doing this with us! Before we dive in, our readers would love to "get to know you" a bit better. Can you share your "backstory" with us? What was it that led you to your eventual career choice?
My story isn't your typical climb up the corporate ladder. My background is performing arts and I was a Rockette at Radio City Music Hall. I knew that my path wasn't the normal performer route of maybe retiring from dance performance and opening a dance studio. Selling Girl Scout cookies as a young girl had shown me that I had a knack for selling. In New York City, I built both my resumes at the same time — my performance resume and my corporate resume. I started at the very bottom with both and worked my plan to both become a Radio City Rockette and a business maven. I danced at theme parks and sold gym memberships, learning from every experience. However, when I finally decided it was time to hang up my dance shoes, I stepped into my first executive role as a VP of Operations. By that point in time, I was good at identifying cost effective ways to grow income while reducing expenses. I first joined JVZoo as a contractor, then later became their COO. I took over the role as CEO in 2016. In 2020, I also co-founded my media company, Vidastreet.
Can you share the most interesting story that happened to you since you started your career?
I feel my entire career has been interesting. It's hard for some people to understand the transition from dance to running technology companies, however I put in the work and was constantly educating myself and growing.
I've been the CEO of JVZoo, an online marketplace and affiliate network, for over 7 years now and it was at an industry event that I first met my business partner at Vidastreet, Simon Harries. I'm one of those people that truly looks forward to going to work. I get to run multiple companies and I'm always excited for what luck I'm going to create next.
Are you working on any exciting new projects now? How do you think that will help people?
I'm most excited about the March 7th release of my book, Trust Your Increments — How Small, Consistent Steps Can Lead to Massive Success. The goal of the book is to help as many people as possible reach their own goals by building confidence, trusting in their own abilities, and taking consistent steps forward towards their dreams.
Can you share with our readers a bit about why you are an authority on the topic of "How Simplifying and Decluttering Your Life Can Make You Happier"?
As the CEO of JVZoo, an international company with over 1M affiliates, the co-founder of Vidastreet, a media agency, author, and mom of an extremely active toddler, simplifying processes and consciously decluttering is the only way I can get everything done.
Ok, thank you for that. Let's now jump to the main focus of our interview. We live in a time of excess. We have access to so much. But studies show that all of our "stuff" is not making us any happier. Can you articulate for our readers a few reasons why all of our possessions are not giving us happiness?
Possessions do give some happiness, however it's usually fleeting. While there may be a few items we possess that provide consistent joy and happiness (maybe they are an heirloom that remind of us a loved one, or something we worked particularly hard to achieve and the item serves as a reminder of our own capabilities) however most times, items provide short-lived moments of happiness which is why there's often a desire to continue acquiring more.
Lasting happiness comes from within, rather than from ownership.
On a broader societal level, how do you think this excessiveness may be harming our communities and society?
I feel the easiest example of this would be social media. Social media is like eating sweets. Every now and again, a little taste is nice, but too much at one time can leave you sick. The negative impacts of social media are abundant. The unrealistic views of other people's lives to impossible beauty standards due to filters as seen on social media can create depression and anxiety. In addition, social media can limit the exposure to diverse perspectives creating an unhealthy echo chamber. The saying "birds of a feather flock together" is a homophily concept and is one that social media algorithms feed, oftentimes and unfortunately, to the harm of its users.
The irony of struggling with happiness in modern times is glaring. In many places in the world today, we have more than ever before in history. Yet despite this, so many people are unhappy. Why is simplifying a solution? How would simplifying help people to access happiness?
I was recently speaking with a friend who shared his concern that the modern world of technology and social media may have stolen his son's (and all of our children's) ability to understand the power of boredom. He shared that his greatest moments of both peace and creativity come when he's alone with nothing to do, usually while walking through the forest. This made me think of the times I have dreamed my biggest dreams, planned the life and career I'm now living, had my best ideas for work, or solved some of my biggest problems. Those times were always when I was alone, not doing anything other than being, and usually (not always, but most often) outdoors.
In general, younger generations don't know how to be alone with just their thoughts. They don't know how to sit quietly without some piece of technology in their hands. In their defense, parents are shoving tablets in their hands long before they can even talk, so it's not really their fault. I'm not blaming parents here either. It's been a massive societal shift and one that's left many without ever having learned to use their time alone to develop an imagination, practice self-control skills, develop self-esteem, or practice self-reflection. All of these things lead to a better understanding and liking of oneself which ultimately creates happiness. It's an interesting topic, one you could probably devote an entire article towards!
Can you share some insights from your own experience? Where in your life have you transformed yourself from not having enough to finally experiencing enough? For example, many people feel they don't have enough money. Yet, people define abundance differently, and often, those with the least money can feel the most abundant. Where in your health, wealth, or relationships have you transformed your life?
This is a tricky question. I live comfortably because I do have money. I am afforded the ability to not have to worry about paying my electricity bill, feeding my daughter or taking her to the doctor when she's not well, or putting gas in my car so I can drive to work to make more money. People with the least money may feel abundant in love, family, values, etc., but I don't want to overlook the difficulties and stress that money alleviates.
That being said, I can certainly discuss the inbetween for me. The time when I was making enough money to afford one luxury item or vacation a year, but no more than that. I'd say that was a time when all I wanted was more and I couldn't see there ever being an end to it. I wanted more nice shoes, more trips, more clothes, more electronics, more jewelry and now that I have more income, savings, and investments, I find I only want more time and more experiences with the people I love doing those things that bring me joy.
This change took place because I do have the income to live comfortably without stressing over paying for necessities and also, nearly losing my father due to heart disease and a neurological disorder. At that point, I made a conscious decision to recognize all that I do have and to start enjoying the people, not possessions, that like me, have limited time here.
People, places, and things shape our lives. For example, your friends generate conversations that influence you. Where you live impacts what you eat and how you spend your time. The "things" in your life, like phones, technology, or books impact your recreation. Can you tell us a little about how people, places, and things in your own life impact your experience of "experiencing enough?"
I run a technology company, I am an avid reader and my first book is being published this year, and I travel alot — and all of these things do shape my life. I do believe the secret to "experiencing enough" is to allow yourself to be fully present when you're doing something — whether that is using technology for work or to speak with friends or family, reading a book, or visiting a new place. One needs to allow themselves to be fully present and to remove or ignore outside distractions. When we are present, we experience something in its entirety, rather only in pieces where we'd likely walk away feeling disappointment in the experience.
What advice would you give to younger people about "experiencing enough?"
Until you can stand firmly in the belief that you, yourself, as you are is enough, there will never be any amount of possessions in the world to bring you lasting happiness. Start making a daily list of five things you're grateful for and one thing you like about yourself. You'll be amazed at both how differently you view yourself, but also how much less you require outside validation or desire more meaningless things.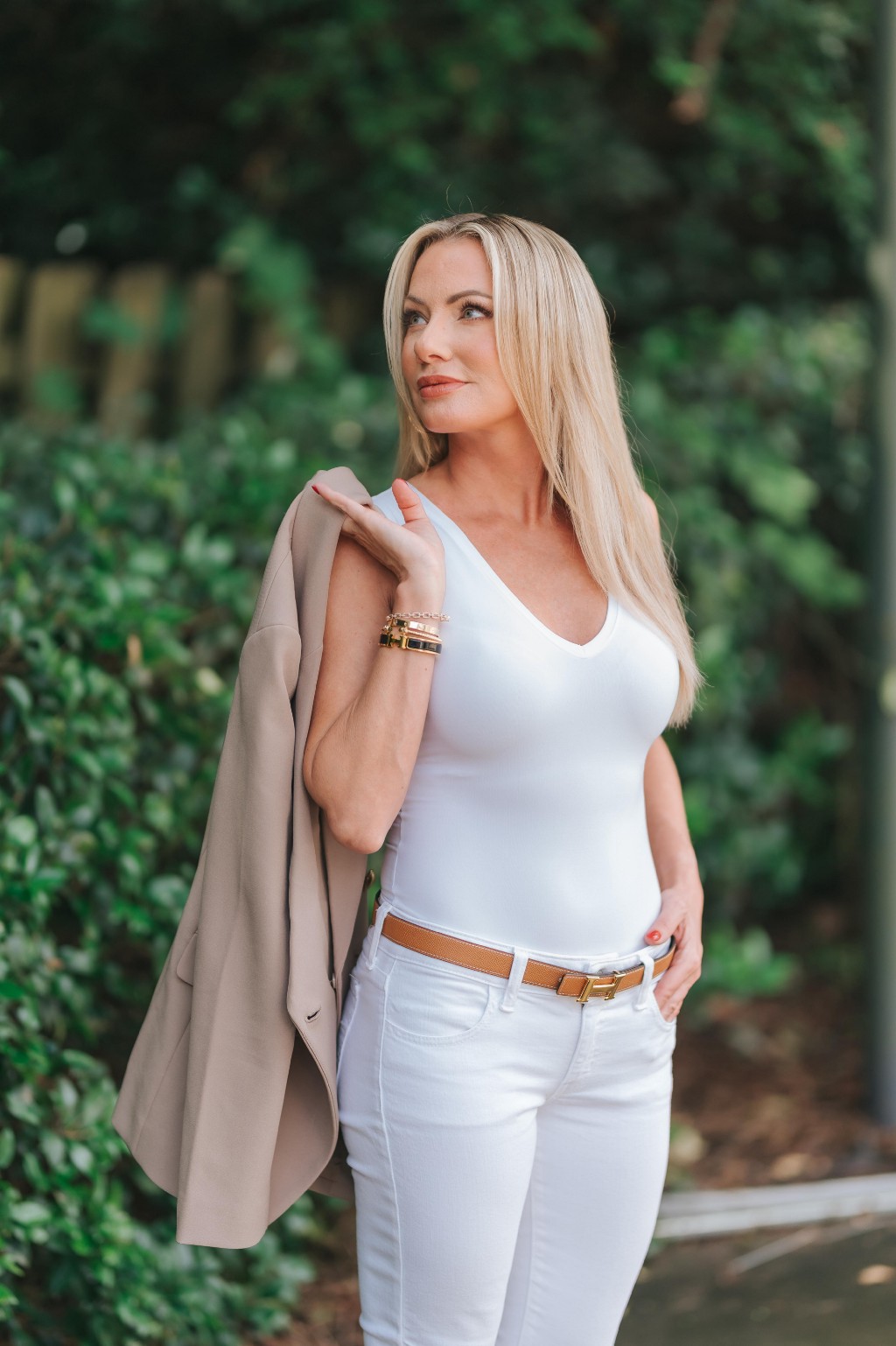 This is the main question of our interview. Based on your experience and research, can you share your "five ways we can simplify and declutter our lives to make us happier?"
1. Possessions — I live by the "no clutter' rule. I believe in putting everything back where it belongs the moment you're finished using it. If you don't have sufficient storage space for your items, you have too much and need to remove non-essential items from your home. This way, you're never wasting time searching for something you need as you'll always know exactly where it lives.
2. Subscriptions — We live in a time where people have endless subscriptions to things they rarely, if ever, use. A fun tip for canceling subscriptions is to take the money you would have spent on the yearly subscription and place it into a fun account. This money can be used to pay for a vacation or to purchase experiences which are more likely to give you a far greater return on your investment in the satisfaction department.
3. Time Commitments — I find that most people I know have busy enough schedules with things they must do. Those items are enough to complete and there's no need to say "yes" to things that are not absolutely necessary and provide no real meaning or joy. Don't be afraid to say "no" to things that don't serve you or your family. It's truly not necessary to have your child attend every birthday party or play date they're invited to, nor is it for adults.
4. Goals — Daily/Weekly/Yearly it doesn't matter, but stop trying to take on the world and accomplish conquering it all in a day or even a year. By simplifying your goals and objectives, narrowing down to the most important, you provide yourself a greater chance of success. No one enjoys a list and checking items off more than I, but I most certainly get the most satisfaction from completing the list each day/year.
5. Technology — I know this seems strange coming from the CEO of a tech company, however there are times technology serves us and then times it does not. We live in a world where our computers are in our bags, in our pockets (phone), on our wrists (watches) and constantly thrown at our children (ipads, etc.) and people are losing a connection to the physical world. Statistics show the negative aspects of technology with feelings of isolation. One of the best decisions I made was to stop wearing my smartwatch and to disconnect with technology so I could connect with the people in the same room with me. It's a game changer!
You are a person of great influence. If you could inspire a movement that would bring the most amount of good to the most amount of people, what would that be? You never know what your idea can trigger. 🙂
Make it a point to smile, say something nice to someone else, and also to yourself every day. Do this for 21 days and watch how your attitude and those around you improves.
How can our readers further follow your work online?
My website lauracasselman.com.
Thank you so much for these insights. This was so inspiring, and so important!
About The Interviewer: For 30 years, Drew Gerber has been inspiring those who want to change the world. Drew is the CEO of Wasabi Publicity, Inc., a full-service PR agency lauded by PR Week and Good Morning America. Wasabi Publicity, Inc. is a global marketing company that supports industry leaders, change agents, unconventional thinkers, companies and organizations that strive to make a difference. Whether it's branding, traditional PR or social media marketing, every campaign is instilled with passion, creativity and brilliance to powerfully tell their clients' story and amplify their intentions in the world. Schedule a free consultation at WasabiPublicity.com/Choosing-Publicity.
---
Laura Casselman of JVZoo and VidaStreet On How Simplifying & Decluttering Your Life Can Make Yo was originally published in Authority Magazine on Medium, where people are continuing the conversation by highlighting and responding to this story.