An Interview With Martita Mestey
I wish someone had told me how hard a female chef's life is. I think it's a little more difficult because unfortunately, there are still some people that will not take orders from a woman. Another difficulty is combining my career with motherhood.
As a part of our series about creating a successful career in theatre, I had the distinct pleasure of interviewing Alessandra Madeira — Chef of Azzurra Cucina Italiana.
Born in Rio de Janeiro, Brazil, Alessandra Madeira made the bold choice to follow her culinary passion and move to Rome, Italy. Without any prior experience, Alessandra spent years mastering traditional Italian recipes and culinary techniques before moving to New York, New York. She began her career as the Garde Manager at Baldoria, owned by the same family that owns the legendary restaurant Rao's. Alessandra worked her way up to Executive Chef, where she quickly established a stellar culinary reputation. Chef Alessandra joined forces with Windom Kimsey and her husband, Walter Ciccone to curate a brand-new concept for the Water Street District. Recently open, she will be in the kitchen creating favorite, classic Italian dishes at Azzurra Cucina Italiana.
Thank you so much for doing this with us! Our readers would love to 'get to know' you a bit. Can you share with our readers a story about what inspired you to become a chef?
My mother used to have a catering business, and as a kid, I would help her cook… that's when my passion for cooking started.
Do you have a specific type of food that you focus on? What was it that first drew you to cooking that type of food? Can you share a story about that with us?
Yes, Filet Sebastian. This dish was in reality created by a devoted customer…that day I had filet mignon as a special of the day. The customer asked me to cook it like he wanted, I did and it came out delicious! So we added that dish to the menu and of course named it after him. (Bacon-wrapped filet topped with sauteed mushrooms, port wine sauce, and served with Parmesan Risotto)
Can you share the funniest or most interesting story that has happened to you since you became a chef? What was the lesson or take away you took out of that story?
When I started to work at Baldoria, I had to learn from the bottom to the top. I was doing orders, inventories, schedule — until one day I was told: Congratulations! You are now our new executive chef! I was speechless and scared at the same time, it was a big restaurant. But at the end everything went well. My lesson was: Believe in yourself!
Can you tell us a story about the hard times that you faced when you first started your journey? How did you overcome this obstacle?
I think it was working on the line when I was pregnant with my second child, especially because smelling the food made me sick, but I keep on going. In fact, my last day cooking was on a Friday and my son was born on Monday…pretty close right?
In your experience, what is the key to creating a dish that customers are crazy about?
First step is LOVE — cook with love and it will taste better! 😊 Second, don't rush the cooking process, don't make short cuts, good food takes time.
Personally, what is the 'perfect meal for you'?
Hard question…I love food, so everything is a perfect meal on different occasions.
Where does your inspiration for creating come from? Is there something that you turn to for a daily creativity boost?
Not sure where it comes from, I just try to create something new and most of the time it comes out good! Plus, I like to see my customers' reactions when they eat my food, making them happy is my goal.
Are you working on any new or exciting projects now? What impact do you think this will have?
My new project right now is Azzurra Cucina Italiana, we have only been open for 2 months, so I'm focused on making it a success.
What advice would you give to other chefs or restaurateurs to thrive and avoid burnout?
Just to believe in yourself.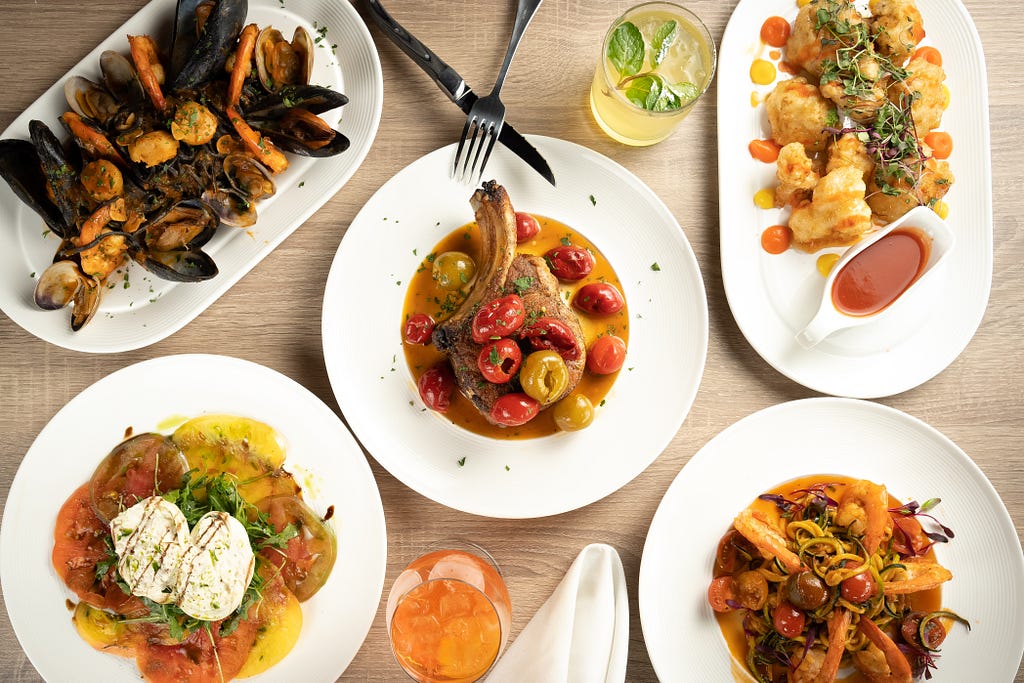 Thank you for all that. Now we are ready for the main question of the interview. What are your "5 Things I Wish Someone Told Me When I First Started as a Chef" and why? Please share a story or an example for each.
I wish someone had told me how hard a female chef's life is. I think it's a little more difficult because unfortunately, there are still some people that will not take orders from a woman. Another difficulty is combining my career with motherhood.
What's the one dish people have to try if they visit your establishment?
We have a daily meat, fish and risotto of the day. That is a good choice if you are looking for something different. We also have our signature Pork Chop that many of our customers follow us for! It's a double cut frenched pork chop with mild cherry peppers and white wine sauce.
You are a person of enormous influence. If you could inspire a movement that would bring the most amount of good to the most amount of people, what would that be? You never know what your idea can trigger.
A movement that will teach kids values of life! Kindness and respect for others I believe would cut bullying by at least half. We have to invest in our kids, they are our future.
Thank you so much for these insights. This was very inspirational!
---
Chef Alessandra Madeira: 5 Things I Wish Someone Told Me Before I Became a Chef was originally published in Authority Magazine on Medium, where people are continuing the conversation by highlighting and responding to this story.