Mac Anderson, Drew Anderson and Luke Visnic of Cleveland Kitchen On 5 Things You Need To Create a Successful Food or Beverage Brand
An Interview With Martita Mestey
Passion for the business and space, purpose helps when the going gets tough.
As a part of our series called "5 Things You Need To Create a Successful Food or Beverage Brand", I had the pleasure of interviewing Mac Anderson, Drew Anderson, and Luke Visnic of Cleveland Kitchen.
Meet Mac Anderson, Drew Anderson and Luke Visnic- the trio behind Cleveland Kitchen, an award-winning line of fermented foods, including world-class krauts, kimchi, pickles and salad dressings. Armed with an entrepreneurial spirit and traditional family recipes, the three brothers left careers in banking, finance and architecture, to pursue their passion for fermented foods, launching Cleveland Kitchen in 2014. Today, Cleveland Kitchen is a category leader, helping Americans nationwide enjoy the great taste and unique health benefits of their sauerkraut, kimchi, pickles and salad dressings.
Thank you so much for doing this with us! Before we dive in, our readers would love to learn a bit more about you. Can you tell us a bit about your "childhood backstory"?
Drew: Food and farmers were a huge part of mine and Mac's childhood. Our mother started the first non-profit network of grower-only farmers markets in northeast Ohio called the North Union Farmer's Market. We were at the market every weekend helping farmers haul their fresh produce and set up their areas to entice customers excited for fresh produce and homemade packaged goods. Once we reached high school, we really started to learn the food business. We managed the market and helped the farmers and small businesses with their growth planning and systems to bring their products to grocery store shelves.
Mac: Our mother loved (and still does) bringing fresh produce from the market home to create traditional family recipes. We learned the process of fermentation and making kraut from her. We always stayed true to our family's traditional recipe but used a few jars in each batch to experiment with new ingredients like garlic and beets. In college, I couldn't find kraut anywhere and started fermenting it on my own. At first, my roommates weren't happy about my concoctions fermenting in our kitchen but I soon converted them to be major kraut fans during grilling and tailgating season.
Luke: My family coincidentally has a strong kraut history similar to Mac and Drew. My grandmother was of Eastern European descent, and she passed along a passion for fermenting sauerkraut. Growing up we'd visit her home and would be delighted with the fresh, delicious taste of heritage she'd pair with barbeque or pierogi. She taught us to chop and mix in the cabbage, readying a batch of fresh kraut for the crock.
Can you share with us the story of the "ah ha" moment that led to the creation of the food or beverage brand you are leading?
Drew: Luke, Mac, and I were catching up over beers when our "ah ha" moment happened. I had just moved back to Ohio for a banking position and we were all catching up. Luke started telling us about his kraut-making inspired by his Croatian-German Oma. This is not a common hobby so Mac and I were stoked to swap tips and tricks. All having entrepreneurial spirits, we took this seeming coincidence as a sign that we should start our own kraut company.
We began working late nights and weekends while we held down our full time jobs in finance (Mac) architecture (Luke), and banking (myself) to refine our recipes. Back to our roots, we started selling our krauts at farmer's markets, asked our customers for feedback about texture and taste, recommendations for new varieties, and shaped a product that stands out in the fermented food space. Eventually, we moved our production from our homes to a commercial kitchen and now we're one of the fastest growing companies in the country.
Can you share a story about the funniest mistake you made when you were first starting? Can you tell us what lesson you learned from that?
Mac: I recall we were just launching into NYC and we were pumped — this was our first major market outside of Cleveland and it was our largest order to date. However, our distributor made an astute recommendation to shift from 12pk cases to 6pk cases so it was easier for the smaller-footprint city stores to take our products in. We spent one freezing Thursday evening in February of 2016 on the docks of our production facility reshuffling our entire inventory into new cases. Drew and I then hopped in a rented truck and hit the road at 10pm in order to make it in time for the 11am delivery window.
After driving 8 hours straight through the night, taking turns catching a few minutes of sleep each, and breaking a few traffic laws, we arrived at the NYC distribution warehouse just minutes before the weekend delivery deadline. We were exhausted, hungry, and ready to go home. As the warehouse manager was unpacking our goods, he asked whether I was staying to give the sales team the brand and product overview on Monday. With nothing but the clothes on my back and the knowledge that some of my best friends were living in Brooklyn with both a couch and computer I could borrow, I quickly responded "Of course, we're looking forward to kicking off strong with the team". Drew, a bit flabbergasted, dropped me off at my friends, Justin and Hank's place and hit the lonely road with an empty truck and a heart full of hope that I'd pull off this presentation.
Next, I bought a few garments, went around to some local stores we'd be selling into, and built the presentation using a borrowed laptop. Having gleaned a few buzzwords from the beverage rep presented before me that Monday, I took my shot and the presentation went beautifully. I could tell that the sales teams were excited and refreshed by our new standout products. This experience is just one of many where we learned to take advantage of every opportunity, to listen to partners who know the market, and be flexible to their guidance, and, most simply- to just do the damn thing.
What are the most common mistakes you have seen people make when they start a food or beverage line? What can be done to avoid those errors?
Luke: We've seen some founders that can't quite get focused and end up doing many things good rather than a few things great.
We've grown around several brands and founders in the space and, while we certainly don't have everything figured out, we can attribute early success to being able to divide our focuses, rely on our individual strengths, and conquer. My background lent itself to processes, planning, and operations very well, Drew was our financial and strategic leader, and Mac was able to focus solely on sales and marketing early on.
Mac: Agree. We also would ensure that founders are getting out there and both testing the product and talking to their consumers. It helped us immensely to sell and work directly to our customers week in and out in order to not only ensure our product was good and would be in demand, but allow for us to hear consumers speak about it and develop talking points and pitches.
Let's imagine that someone reading this interview has an idea for a product that they would like to produce. What are the first few steps that you would recommend that they take?
Drew: The very first step is to get the product out and collect customer feedback so that you can refine the product. Go to a local farmers market or even just popup in a busy place and seek feedback directly. Ideally, sell at a market to ensure that consumers will pay for what you are selling. A lot of family will tell you the product is great to be supportive, but getting folks to spend real dollars is key. Understand if self-production will be feasible to generate margins or if you'll need to pursue a copacker — and find out who that might be.
Research your product space and determine where it would be positioned in the store, who the competition is, and how big the market may be. Is this a space that has seen recent brand investment that you can ride along with or is this an opportunity to disrupt a stale category that is large but seemingly forgotten by the new emerging brands.
Begin to hone your pitch not only to consumers, but also to partners — whether that's retailers, co-packers, or investors that need to buy the dream!
Many people have good ideas all the time. But some people seem to struggle in taking a good idea and translating it into an actual business. How would you encourage someone to overcome this hurdle?
Mac: Good ideas come around often, those who execute on them and bring them to market are rewarded. I will always say pursue it but be ready for years of the hardest work, sacrifice, fun, and challenge ahead. Fortune favors the bold that say let's go do it.
There are many invention development consultants. Would you recommend that a person with a new idea hire such a consultant, or should they try to strike out on their own?
Luke: It is always good to have sounding boards and folks to keep you pushing forward in the beginning and throughout. Whether that's a consultant, a co-founder, a mentor, a spouse, or a strategic investor, etc.. It never hurts to have good people in your corner pushing you forward. If you can get that for free, it's always best in the startup phase as resources are tight.
What are your thoughts about bootstrapping vs looking for venture capital? What is the best way to decide if you should do either one?
Drew: It depends on the capital intensity needed to get your product or brand off the ground. In my opinion, the longer you utilize bootstrapped capital, the more equity you'll be able to preserve, and further you'll be able to scale and refine the business before going out for investment. While capital needs take precedent, it's critical to work to bring strategic partners in as investors that can do more than provide cash, but rather also provide expertise, knowledge, connections, and advice.
Can you share thoughts from your experience about how to file a patent, how to source good raw ingredients, how to source a good manufacturer, and how to find a retailer or distributor?
Mac: Leverage tools like LinkedIn and your network to find contacts on all fronts. The internet has made it quite easy to build these connections and work to get in touch with the right contacts/organizations, but nothing beats picking up a phone or going in person for a visit to talk to someone.
Leverage trade organizations, mentors, and 'founder friends' in the space that have done it before. Food & beverage is a very collaborative space and we've all struggled to find our way — we're all pretty willing to help the next brand up figure things out.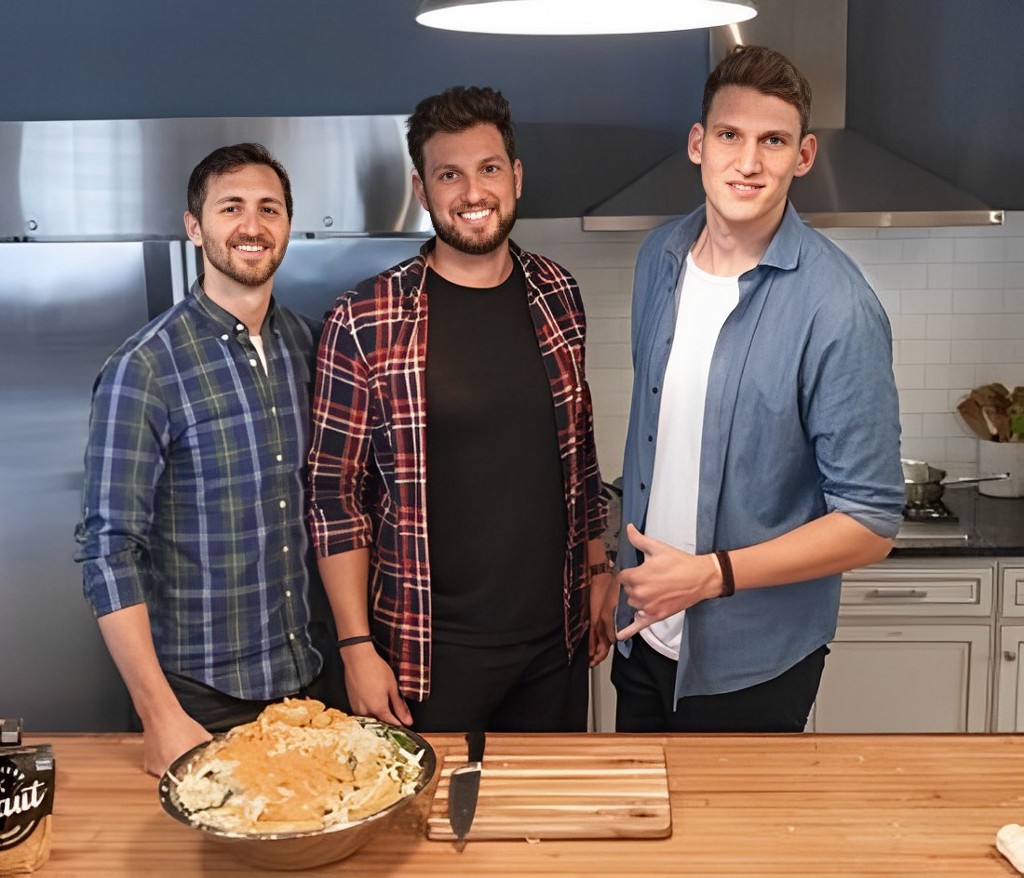 Here is the main question of our discussion. What are your "5 Things You Need To Create a Successful Food or Beverage Brand" and why?
Drew:
I knew this question would be asked of us and I've been mulling over it awhile. Clear and concise is my style so here it goes..
Passion for the business and space, purpose helps when the going gets tough.
Great product that keeps customers coming back.
Great people to build a great company.
Data- Customer feedback has been a major theme in this interview. Collect data about your product so that you can constantly improve.
Capital- This is of course an obvious but capital is crucial for growth.
Can you share your ideas about how to create a product that people really love and are 'crazy about'?
Luke: Start by solving a problem or creating a product that you love and have need for. Get out to market and test the item — test with friends, family, and strangers alike. Get someone to pay for it and come back for more. Ensure that you're solving a problem and providing value that can hit critical mass. And most importantly — make sure it tastes great!
Ok. We are nearly done. Here are our final questions. How have you used your success to make the world a better place?
Mac: While we're still very much in building mode here at Cleveland Kitchen, we take great pride in building up our community by adding dozens of jobs to our home town of Cleveland, supporting local vendors, and bringing a product to market that helps people lead healthy lives.
We also are honored to be able to give to great local and national organizations and causes that support community and those in need including the American Heart Association, Empower Sports, Food Bank of Greater Cleveland, Cleveland Clinic Foundation and the North Union Farmers Market. We very much aim to keep growing both our company and our ability to give back.
You are an inspiration to a great many people. If you could inspire a movement that would bring the most amount of good to the most amount of people, what would that be? You never know what your idea can trigger.
We believe eating delicious and healthy, real food brings people health and happiness. There's a sense of community with cooking and shared meals and we can do so much to fight disease with great nutrition. Specifically, we're hopeful to build a more delicious and healthier future through fermented foods.
Thank you for these fantastic insights. We greatly appreciate the time you spent on this.
---
Mac Anderson, Drew Anderson and Luke Visnic of Cleveland Kitchen On 5 Things You Need To Create a… was originally published in Authority Magazine on Medium, where people are continuing the conversation by highlighting and responding to this story.