An Interview With Martita Mestey
Surround yourself with cooks and chefs that inspire you to be better. If I would have known this early on, I could have gained more knowledge and moved up the ranks quicker.
As part of our series about the lessons from influential 'TasteMakers', I had the distinct pleasure of interviewing Chef Mario Ventura.
Chef Mario Ventura currently serves as the Executive Chef for The Westin Tempe in Arizona. Ventura is responsible for all the food offerings for Terra Tempe Kitchen & Spirits, Skysill Rooftop Lounge, Cup of Joe Market Café, in-room dining and banquets. Ventura has an extensive career that spans over 20 years in the food and beverage industry. He has spent time at some of the top country clubs, casinos, hotels and resorts in Arizona and Texas, including Four Seasons, Fairmont, Omni, Luxury Collection for Starwood, The Country Club at DC Ranch, and We-Ko-Pa Casino Resort, to name a few. He enjoys mentoring the next generation of chefs to reach their full potential. He also believes that food is not only for substance, but it can be the ultimate art form that uses all five senses. Ventura focuses on "simplicity with a touch of modern" when creating and plating his creative inspirations.
Thank you so much for doing this with us! Our readers would love to 'get to know' you a bit. Can you share with our readers a story about what inspired you to become a restauranteur or chef?
I was working under a chef that saw how naturally cooking came to me and encouraged me to continue. This is what initially propelled me into discovering that being a chef could be a lifelong career, but it wasn't until I was working in luxury hotels that I discovered how culinary can be an art form and not just a means to sustain our bodies. After being exposed to new ingredients with different flavors, colors, cuisines and learning new techniques to manipulate the ingredients, I decided that I wanted to pursue becoming a chef.
Do you have a specific type of food that you focus on? What was it that first drew you to cooking that type of food? Can you share a story about that with us?
I typically don't focus on a specific type of food when I cook. I usually leave it up to how I'm feeling in the moment or what I like to eat. Growing up in Arizona, I like to focus on the produce that we grow here locally like squash, corn, beans and peppers. Being that Arizona is a melting pot, I like to take inspiration from the different cultures and countries such as Mexico, Central America, Asia, Spanish and Italian, and give it my own twist.
Can you share the funniest or most interesting story that has happened to you since you became a chef? What was the lesson or take away you took out of that story?
At the beginning of my career, I worked in a snack shop at a golf club. The executive chef came to me and asked if I was willing to stay for the dinner shift in the fine dining restaurant since one the cooks walked out. The executive and sous chefs already had their hands full with a VIP dinner for 200 guests and needed help. At the time, I didn't have much experience cooking, but without hesitation I said yes. Leading up to that evening, I began to feel anxious and scared, but it turned out to be a slower night and all I had to make was a couple of salads, burgers and club sandwiches. At the end of the VIP dinner, the chefs thanked me and sent me home. The next day the executive chef wanted to speak to me about moving me into The Grille, which was the restaurant that served breakfast and lunch. I reminded him that I didn't have much experience beyond the fast food I made at the snack shop. He told me not to not worry and assured me that he and the rest of the culinary team would help train me. He was confident in me because he admired the courage I had to step up the previous night.
This is where I learned to face my fears head on. If you fail that it is ok, but the main thing is to learn from your mistakes, so you don't make them again. If you choose not to try, you may never know what the outcome will be.
Can you tell us a story about the hard times that you faced when you first started your journey? How did you overcome this obstacle?
I began to refine my culinary skills by closely observing the techniques and ingredients used by experienced cooks, endeavoring to replicate them in my own cooking. I even took the initiative to taste other cooks' dishes when they were not present, allowing me to develop a more nuanced understanding of the flavors and textures inherent in various dishes. Over time, I honed my abilities to the point where I could impart my knowledge to younger cooks, empowering them to quickly master the culinary arts.
In your experience, what is the key to creating a dish that customers are crazy about?
When creating a new dish, the two factors I keep top of mind — how does it taste and how is it presented on the plate? My starting point is always to focus on what produce is in season. Once the harmony is found with the produce, I bring in the proteins, sauces and final techniques I want to use to manipulate the ingredients into the new recipe. Many of us eat with our eyes before we taste the dish, so the final touch for me is spending extra time on the design of the plate to really drive home the "wow" factor.
Personally, what is the 'perfect meal for you'?
The perfect meal for me is anything that brings me and my family together around the dinner table. The actual meal doesn't matter as long as there is laughter, joy and reminiscing about our favorite memories. If I must choose, it would be my take on a Salvadorean dish called "panes de pavo" or turkey roll in English that I make every Thanksgiving. The dish consists of roasted turkey basted with a guajillo sauce, lime, cured onions with oregano, jalapeño, tomato, lettuce, mustard and mayo piled on a French roll. My family also won't ever allow me to skip out on making my brown sugar glazed ham with a cherry-pineapple glaze and apple corn bread stuffing during the holidays. This combination is guaranteed to get us around the table for a perfect meal.
Where does your inspiration for creating come from? Is there something that you turn to for a daily creativity boost?
I take inspiration from Mother Nature and all that she has to offer from the land to our oceans. As mentioned previously, I always start with what produce is available to me seasonally and locally and then choose proteins. Once the ingredients are chosen, the dish comes together and then it is all about the plating. I think through how the dish is going to be placed on the table and presented to the guest. For inspiration when plating, I like to look at landscape or nature and try to replicate what I see, which can be anything from how a tree branch is laying on the ground with mushrooms and herbs growing around it or how there is a waterfall cascading down to a creek.
Are you working on any new or exciting projects now? What impact do you think this will have?
Currently, I am working on establishing the food and beverage offerings at The Westin Tempe's three signature outlets as a must-visit destination for the City of Tempe. This includes making Terra Tempe Kitchen & Spirits the premier restaurant for any occasion with our elevated food and service, establishing Skysill Rooftop Bar & Lounge as the No. #1 rooftop to visit with its fun vibe and amazing cocktails, and making Cup of Joe a one stop shop with unique apparel, artisan coffee, sneakers and grab and go, self-service options.
What advice would you give to other chefs or restaurateurs to thrive and avoid burnout?
First, to avoid burn out, schedule some time off or take an extended weekend away from the restaurant. You have to trust the team that you've built to take the reins when you are away and utilize what you've taught them.
Second, find a hobby that interests you outside of work and make time for it. Some of my favorites that I enjoy are going to the gym, martial arts, basketball and bowling.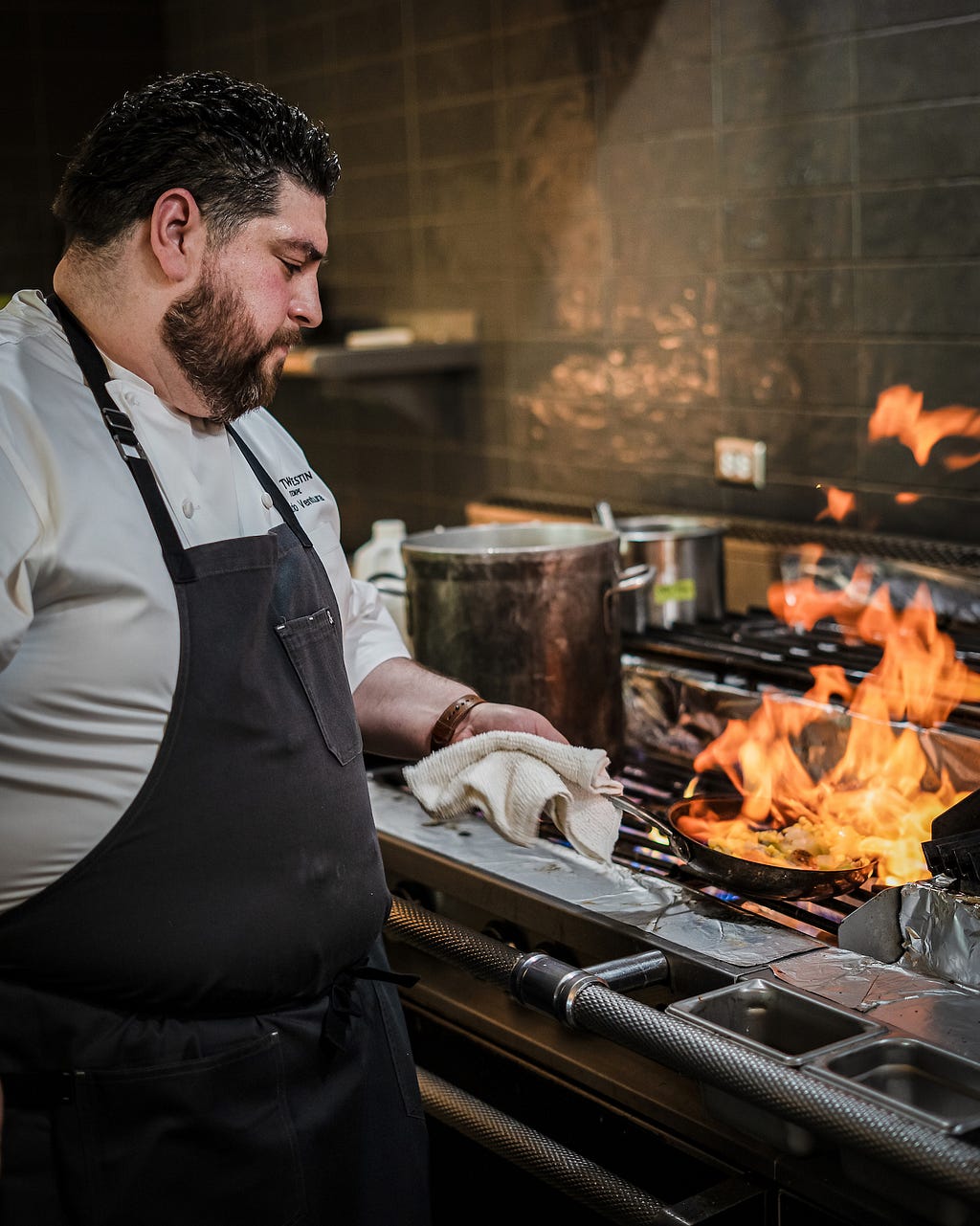 Thank you for all that. Now we are ready for the main question of the interview. What are your "5 Things I Wish Someone Told Me When I First Started as a Chef" and why? Please share a story or an example for each.
Surround yourself with cooks and chefs that inspire you to be better. If I would have known this early on, I could have gained more knowledge and moved up the ranks quicker.
Knowledge of great technique is far superior to recipes. Early on in my career I was recipe hungry. I was trying to get my hands on every recipe possible, not realizing that one must learn the technique and perfect it. Shifting the focus to learning the technique and not just a recipe, allows you to create an entirely new dish because you've mastered the technique.
A good chef never wipes dirty hands on a clean apron. When I first started my career, I was a messy cook. My apron and white chef's coat would be black by the end of my shift. I looked at my chef, and he was always in pristine condition even though he would work the line. I asked how he managed to stay so clean. He responded, "This is a sign of a good chef." From that point on, I made it my mission to work clean while I was in my chef's coat.
Never touch another chef's knives without permission. A chef's knife is their most important tool and sometimes their most expensive tool. If you use it, always return it better than you found it. There is nothing worse than letting someone borrow your knife and receiving it back dirty or damaged.
Tickets do not stop coming. They will haunt you in your dreams! If you have worked somewhere that uses a ticket machine, you know that unique sound that it makes? It still haunts me to this day.
What's the one dish people have to try if they visit your establishment?
For breakfast, the Banana & Strawberry French Toast with cinnamon brioche French bread, caramelized banana, brûlée, strawberry sauce and piped cream cheese whip.
For lunch, Blackened Seared Salmon with watercress and arugula salad, aji mango sauce, pickled mango jalapeño tomato relish.
For brunch, Concha Steak Torta with marinated hanger steak, refried beans, plantains, pickled peppers, chipotle aioli, butter lettuce, tomato, avocado, fried egg atop a jalapeño-cheddar concha with a side of steak fries.
For dinner, Cilantro Crusted Chilean Sea Bass served with tomato jam, romanesco and beet yogurt.
To end things on a sweet note, Orange Creamsicle Cheesecake with marshmallow cream, dehydrated meringue, mandarin oranges and orange citron gelee.
Thank you so much for these insights. This was very inspirational!
---
Chef Mario Ventura Of The Westin Tempe: 5 Things I Wish Someone Told Me Before I Became a Chef was originally published in Authority Magazine on Medium, where people are continuing the conversation by highlighting and responding to this story.